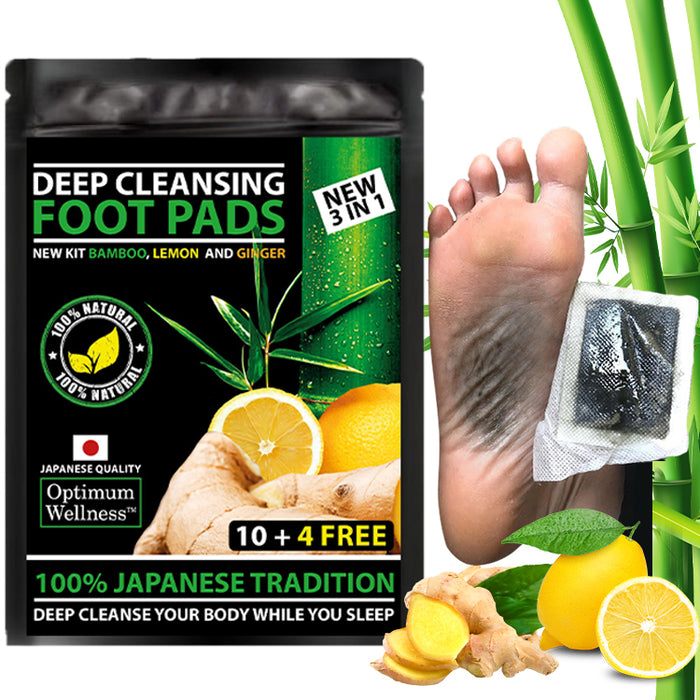 Natural Cleansing Ginger Detox Foot Pads

Remove Environmental Toxins From Your Body and Embrace the Healing Power of the Natural Japanese Solution!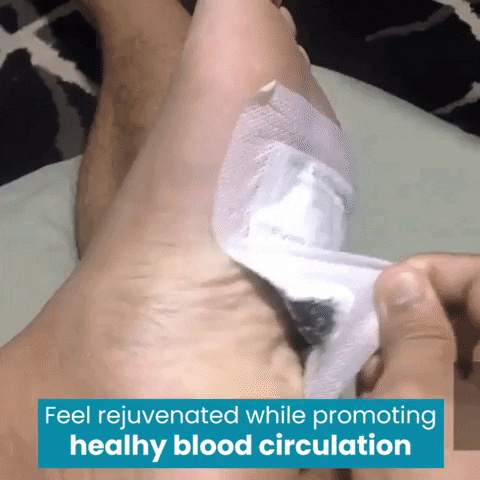 The  Ginger Foot Pads promote the natural cleansing of chemicals, toxins, and heavy metals. Made with 100% vegan, non-GMO, and organic ingredients, they provide a safe and relaxing experience to promote cleansing.
Natural & Safe Toxin Cleanse
Promotes Better Sleep & Relaxation
Improves Circulation & Metabolism

Helps Strengthen Immune System

 
Relieves Stress, Pain, & Swelling
Boosts Vitality & Energy
Golden Detox™ 2-Week Program
*In order to complete the full 2-Week Detox program, please purchase 2x PACKS (28 footpads in total, 2 for each night)*
Every day, your body is exposed to harsh toxins from the water you drink, the air you breathe, the food you eat, and the environment in which you live. Those toxins accumulate and impact your overall health and well-being. Cleansing can help you live a healthier and happier life.
Benefits
Reflexology Therapy: Ancient Japanese medicine believes that health is directly related to the feet, as they contain nerve endings corresponding to each part of the body. Our Detox Foot

 Pads use the power of reflexology to tap into many important points on the soles of your feet. This promotes the natural detoxification of chemicals, toxins, and heavy metals from your body. 
All-Natural, Non-GMO, Organic Ingredients: Our ingredients are based on ancient herbal medicine for a safe and relaxing experience. We have carefully formulated our Ginger Detox Foot Pads to ensure that you get the best results possible!
Ginger:

 

powerful anti-inflammatory, circulation-boosting, and digestion-aiding effects
Bamboo Vinegar: Promotes the reproduction of beneficial microorganisms, promotes digestion, removes foul odors, promotes bowel and oral health
Wood Vinegar: Antibacterial solution, removes foul odors, absorbs moisture, sweat & metabolic waste out of your pores
Tourmaline: A precious mineral that improves the detoxification process, strengthens your liver & kidneys
Loquat Leaf: Antibacterial ingredient, absorbs foul odors, provides a pleasant aroma
Houttuynia Cordata: Contains adjuvanticity, anti-obesity, hepatoprotective, antiviral, and antibacterial properties
Vitamin C: A strong antioxidant that boosts your immunity
Dextrin: 

A fiber supplement that serves as overall support to other ingredients
Aids Stress Relief: The accumulation of toxins in our bodies causes unwanted inflammation, which promotes a stress response in our bodies and minds. Through the soles of the feet, the Detox Foot Pads gently promote the natural cleansing of toxins and chemicals that causes stress and fatigue. 
Promotes Mental Clarity: Another highlight of footpads is the calming effect it promotes white you sleep. When you wake up in the morning, expect more ease, clarity, and balance.
Promotes Better Sleep: 

The natural ingredients can help aid in your stress release and deepen your sleep by promoting positive REM cycle sleep. M

ake your night more blissful and improve the quality of your sleep so that you wake up feeling refreshed like never before!
Improve Circulation and Metabolism: Organic, all-natural ingredients stimulate the feet, which increases circulation and the flow of energy throughout the body
Promotes Overall Comfort & Pain Relief:

 

Those who are on their feet all day will be pleased to know that the Natural Detox Foot Pads can reduce the aches and soreness in your feet and relieve muscle tension while asleep at night. 

With soothing repair, while you sleep, you will feel more comfortable and relaxed throughout the day
Boosts Vitaly & Energy: Toxins and impurities weigh you down and make you feel sluggish. Detoxification can elevate your well-being and give you more energy.
How to Use:
Apply the Detox Patch one hour before bedtime.

   
Wash and dry your feet or body part before applying Detox Patch.

Take out the patch, peel off the release paper of the adhesive patch.

 
Place the patch in the middle of the adhesive patch (The soft side without words contact the skin). 

Place the footpad in the center of the foot, and the vent hole is close to the foot (Socks can be worn if necessary)

Wear for 8-10 hours then remove pad.

Wipe the surface with a wet towel until it's no longer sticky

     

Used patches will appe

ar dark greenish or grayish as they absorb toxins and waste matter from your body.

 

Tear off after getting up in the morning, please do not reuse it.

Continue to use each night until the discoloration of the pad subsides.

 

When used patches show signs of lightening, apply once or twice a week for maintenance
Precautions:
Wear a light sock over the foot patches to avoid accidental displacement.

Only for external use, please do not take orally.

Pregnant women and those who have allergies problems are prohibited to use it.

Keep out of reach of children

Recommend use it continuously for about 2 months when you use it first.
INCLUDED:
1x Pack: 14x foot patches (7pairs)
2x Pack: 28x foot patches (14 pairs)
3x Pack: 42x foot patches (21 pairs)