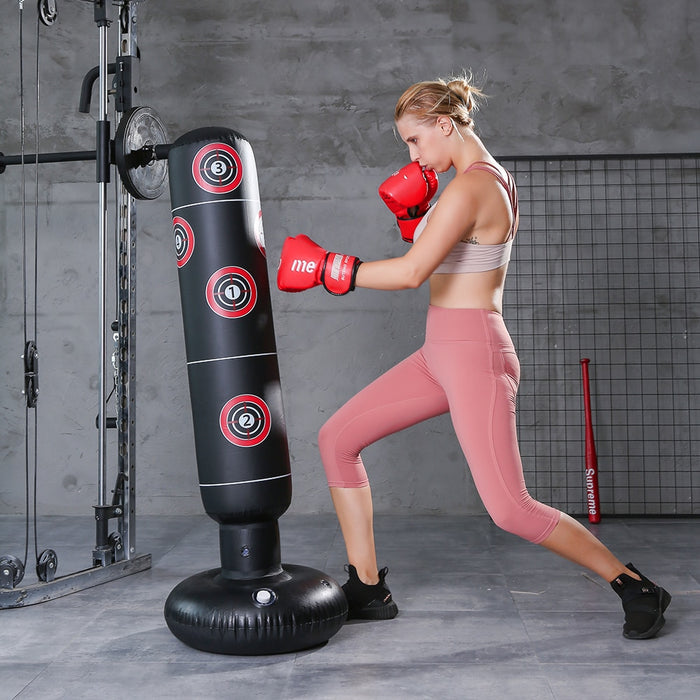 PunchBox™ - Large Inflatable Free Standing Punching Bag
Tone your arms and strengthen your core by practicing jabs and uppercuts on our premium punching bag. Our adults/kids punching bag was designed to provide you with a sturdy platform to punch and kick all day.
Made with high-quality PVC, the free-standing punching bag is capable of taking on your strongest kicks and punches. Not only that, but the kickboxing bag is also safe enough to cushion your hits without hurting your hands and feet.
With its inflatable design, the freestanding punch bag is extremely easy to set up wherever you want to exercise. All that you will need is a spacious area to place the stand-up punching bag and you're ready to start training like a real boxer.
Better yet, the boxing punch bag comes in two different sizes, making it suitable for both adults and kids to exercise with. Liven up your workout routine by straightening your jabs and strengthening your kicks with the home boxing bag.
FEATURES
STABLE: The round base on the bottom of the punching bag helps provide an additional amount of stability and prevents it from tipping over. As long as the water fills the base at a proper level when it's inflated, the kids punching bag will stand upright with ease, making it easy to throw punches or kicks.
PORTABLE: Due to the inflating and deflating design, the free-standing punching bag is extremely lightweight and easy to carry. Simply deflate the kickboxing bag and drain out the water until it's fully flat before folding and carrying it.
HEAVY-DUTY: Our freestanding punch bag is highly durable and was built to last for years. No matter how much pressure is applied, the stand-up punching bag will not easily tear or break.
SPECIFICATIONS
Material: Environmental PVC
INCLUDED:
1x PunchBox™ Large Inflatable Free Standing Punching Bag