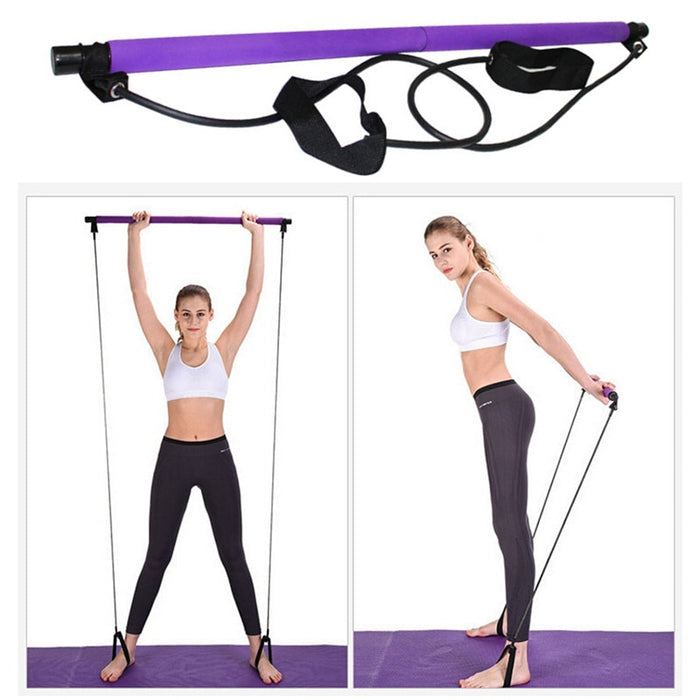 Home Workout Toning Bar With Resistance Bands
The Home Workout Toning Bar is like having your very own portable Pilates studio. From bicep and tricep curls to lunges, squats, and more, our resistance bands bar lets you get a full-body workout at home.
Home Workout Toning Bar is ideal for carrying out a range of movements that you would be able to do with a traditional pilates reformer. The stretchy and strong bands allow you to feel the resistance, while the steel bar provides stability for your movements. Foam hand grips are easy and comfortable to hold on to or wedge your feet into.
FEATURES:
MULTIPLE USES: Pilates stick is often used for Yoga, Pilates, stretching exercises, fitness, and other training programs. It is also perfect for use by women after pregnancy and birth to keep their bodies in shape.
CONVENIENT HOME GYM: Get a full-body workout at home similar to a Pilates mat or reformer workout; great for resistance-band exercises, yoga, stretching, and low-impact toning
MIND-BODY BENEFITS: Develop a strong core, flat abs, and lean muscles with mind-body focus through every movement
COMPACT & PORTABLE: 2-piece bar comes apart for easy travel and storage; measures 36 x 1.5 x 1.5 inches (L x W x H) when assembled
INCLUDES:
1x Home Workout Toning Bar With Resistance Bands
1x User manual