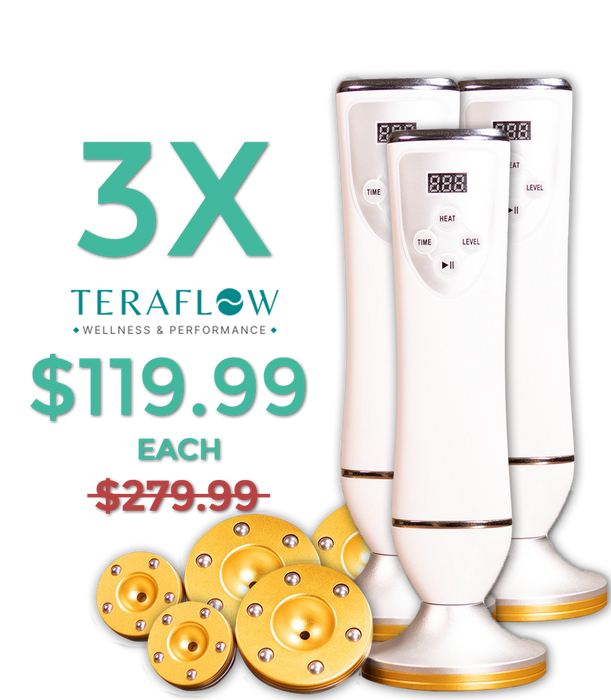 3x TeraFlow™ 3 in 1 Electric Gua Sha Scraping Tool
IMPROVE PERFORMANCE & SHORTEN EXERCISE RECOVERY
Relieves muscle aches and fatigue

Promotes healthy circulation

Improve mobility and flexibility

Reduce scar tissue

Recover faster from workouts
"Let me say, the suction on this device is like no other. It gets the job done nicely. The circulation in the treated areas was evident. A couple of weeks using it and I can definitely notice how much faster my muscles are recovering after the gym!"
- Vanessa H. 
Why Choose TeraFlow™?
We Have Combined 3 Ancient Techniques in 1 Device
Cupping: 

Stimulates circulation, relieves muscle tension and pain
Gua Sha Scraping: Helps to reduce inflammation and break down scar tissue
Heating Function:

 

Improves healing, relaxes muscles, opens up blood vessels
How Can TeraFlow™ Help You?
Our goal when developing the TERAFLOW™ was to create the most efficient and complete wellness device in the market. If you are the athlete, the weekend warrior, the parent, the student, the stressed, or the injured, we have got you covered. Everyone can enjoy the endless benefits of the combination of cupping, Gua Sha, and heat.
Reach Your Full Potential
Do not let pain or slow recovery hold you back from achieving your goals. Get out there and do what you love. A healthier you can start right here. Try our product risk-free for a more adventurous life and a limitless tomorrow.
Wireless

 

for your convenience. Take it anywhere!

3 Suction Levels 

to suit your needs

3 Hypoallergenic Titanium Heads

 

for different parts of the body

Heat Therapy 

to soothe and relax you

Long Battery Life 
INCLUDED:
Frequently Asked Questions
Q: Are cupping marks bruises and how long do they last?
A: Don't worry, cupping marks are not bruises.
Bruises are created by injury or trauma that cause blood vessels to be broken or damaged; with cupping, the blood and lymph are being safely drawn closer to the surface of the skin without damage. Also, unlike a bruise, cupping marks don't hurt when you touch them.
Cupping marks will vary in color from person to person, and will also be darker in more problematic areas where you may have stagnation or scarring. They can last from a few days to a few weeks, depending on the person.
Q: Can you explain the benefits in more detail?
A: The device creates negative pressure which pulls stagnant blood, cellular debris and lactic acid out of tissue and brings it to skin level where the lymphatic and circulatory systems can properly flush it out, reducing muscle soreness.
The negative pressure also brings fresh blood with nutrients to the area, aiding in muscle repair and increasing overall circulation. It allows the tissue to be lifted upward, increasing the space, as well as stretching fascia and muscle tissues, while stimulating synovial fluid production for a greater range of motion.
Q: How can I use the cupping and scraping techniques?
A:  The Cupping technique is utilized when the device is placed on the skin and held in one spot for a minimum of 3-5 minutes and a maximum of 10 minutes. For first-time users, we recommend starting on power level 1 and leaving it on for 3-5 minutes before assessing your skin's reaction and working your way up.
Negative Pressure Scraping is a gliding suction technique, best utilized with your favorite oil or lotion. Once the skin is properly lubricated, turn the device on and glide it across the affected area. For first-time users, we recommend starting on level 1 and increasing the power level as you warm up the area.
This technique can cover a large area faster than the cupping method, but it can be more uncomfortable if you're not used to the sensation.
Q: How does Teraflow™ diminish scar tissue?
A: Scar tissue is made of a special kind of connective tissue called collagen, unlike tendons and ligaments, collagen fibers are not arranged in a parallel pattern. Because of its patch-like nature, there is a tendency for all other tissues to pull in the direction of the scar, which can lead to more compensation patterns and fascial restrictions.
TERAFLOW™ can penetrate deep into muscles, helping break down and realign scar tissue. This process allows fresh oxygenated blood and nutrients to begin the healing process again, freeing muscles and diminishing scars.
For best results, we recommend using the Negative Pressure Scraping Technique following the muscle shape to realign the collagen fibers in a natural direction. To allow proper time to heal, use this technique for 5-10 minutes every other day or until desired results are reached.
Note: Depending on the size and depth of the wound, scar tissue will cease production 3 to 18 months following wound healing. When scar tissue is no longer produced, the scar is considered mature. While using the negative pressure scraping technique to reduce scar tissue in a mature scar is still effective, a more vigorous approach is necessary. We recommend using the highest level of suction paired with the biggest massage head you can fit on the area and doing 15-minute sessions with heat.
Q: What areas of the body can I use it on?
A: Generally, the device can be applied nearly anywhere on the body that allows for suction. However, it should never be used on the genitals, orifices, or any area that causes an unusual amount of pain. Popular target areas include large muscle-layered regions, such as the thighs, back, buttocks, arms, and legs.
Do not use the device over varicose veins, bulging discs, or lesions. Do not use it over acute psoriasis, eczema or rosacea, hives, herpes, shingles, raised moles, or skin cancer.
Q: How can I take care of my device?
A: After each use, we suggest wiping the metal scraping head with a soft cleaning cloth or cotton pad.
The foam filter in the heads prevent essential oil and impurities from reaching the main machine and lowering pressure. 
Eventually, the filters will get dirty; they can either be replaced or washed, dried, and reused.
If you are in a clinical setting, it is safe to disinfect the heads with alcohol-based products.