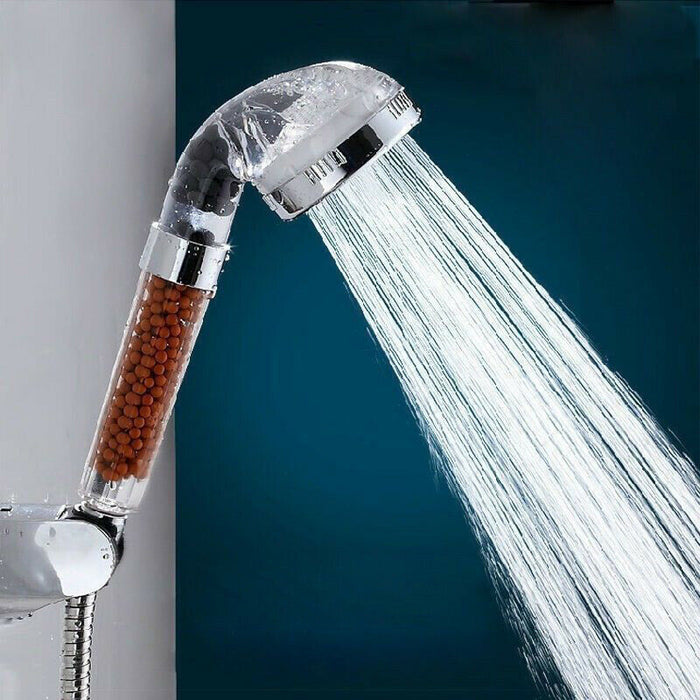 AquaPure - Ionic Spa Shower Head Filter
Free Yourself From a Boring Shower Routine!

Enjoy a toxin-free shower experience with the Ionic Spa Shower Head Filter.
The Ionic Spa Shower Head Filter is a simple, yet amazingly effective solution to take your shower experience to another level. It maintains natural skin moisture, prevents chlorine from touching your skin and hair, and increases the cleansing power. This showerhead especially helps those who live in the areas with very hard water - the unique technology of this showerhead helps to soften the water which flows through the mechanism.
Moreover, you will feel like in a real spa while showering! Because of these qualities, you are going to get out of the shower not only clean but also relieved from all the stress you were feeling. You will be excited to come back home and get into the shower - after all, who doesn†-t like a spa?
WHAT MAKES THE IONIC SPA SHOWER WORTH IT?
Have you ever looked at yourself and thought that, maybe, your hair seems a bit too fizzy, a bit too dry? Maybe your skin seems a bit greyer than it should be? Maybe you feel too stressed out and have no place to relax?
It should not be like this. The good news is, there is actually not much to be worried about - you can say goodbye to all of those things by simply changing the way you shower. To be more precise, your shower head. Yes, a showerhead!
The Ionic Spa Shower Head provides a revolutionary for showering experience. Your dry and fizzy hair comes from chlorine ions. That seemingly grey skin? Low moisture. The feeling of intense pressure on your shoulders due to stress can also be relieved with this showerhead.
Ionic Spa Shower does not dry your skin or your hair. It improves and maintains optimum Natural Moisturizing Factor (NMF); generates a high concentration of negative ions; the reduced water clusters increase the cleansing power of water and deeply cleanses the scalp and hair follicles; it significantly reduces harmful chlorine inhalation; the water flow stimulates hair follicles that way increasing the speed of growth.
It is surprising how many benefits a simple change of a showerhead can provide. Thousands of people are enjoying these changes every day - and you could be one of them!
FEATURES:
LUV Technology boosts water pressure up to 200%, so the user would have a satisfactory shower experience.
Stainless Steel: Made from high-quality materials for long-term use.
Three Shower Settings: The head features jetting, massage, and rainfall modes, to satisfy each user's preference.
Effective Filtration System: Removes 97% of chlorine, harmful chemicals, heavy metals, bacteria, toxins, pesticides, and rust from your shower water. Makes the water softer, that way letting a user use less soap (hard water requires more soap) and preventing the batch appearance destroyers—scums.
Negative Ion Technology: All-natural bio-active stones provide stable pH balance, purifies the shower water, helps to eliminate dry and flaky skin. Negative ion technology has also been scientifically associated with mental improvement, decreased blood pressure, reduction in tension, greater energy levels, better sleep cycles, reduced oil secretion on the skin, and increased cell viability.
Eco-Friendly: Water runs through miniature holes, saving up to 35% more water.
Simple But Durable Design: The shower head is made of environment-friendly ABS material. It features a transparent, see-through design and high-density filter That is removable for easy cleaning. Attaches to any standard shower.
HOW TO USE THE IONIC SPA SHOWER?
After receiving the package with the showerhead inside, just simply install it in your shower. To change the spraying pattern to any from the shown below, use the control switches on the side. Choose the most suitable spraying pattern for the day and enjoy your time well spent!
WHAT RESULTS CAN I EXPECT?
Stronger, healthier hair;
Moisturized, younger-looking skin;
Stimulated hair follicles;
Cleaner, softer water;
Faster cleaning process;
Spa-level experience;
A high-quality, long-lasting built;
The end of the scum in the shower.
SPECIFICATIONS:
Handle: 13cm
Handle diameter: 13mm
Sprinkler Diameter: 60mm
Overall Length: 20cm
Material: ABS
INCLUDED:
1x AquaPure - Ionic Shower Head