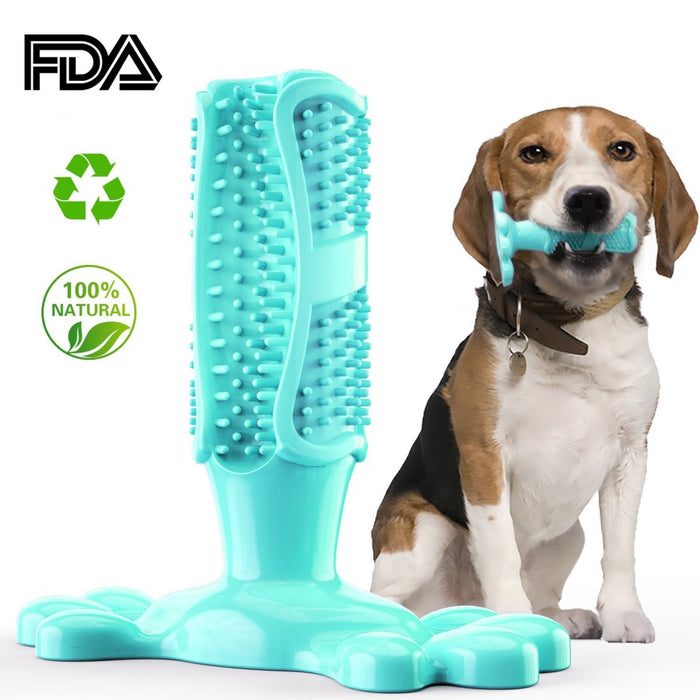 ChewBrush™ - Dog Toothbrush Toy
brushing your dog's teeth has never been easier!
ChewBrush™ lets your dog clean its teeth doing what it loves to do naturally - chewing. Free your hands and save your time.
This dog toothbrush is made with non-toxic, eco-friendly material, and adopts an innovative design with its rigid bristles all-around to help your dog safely clean its teeth even in the difficult-to-reach places. It removes plaque and tartar giving your dog beautiful teeth and fresh breath.
FEATURES:
Made of natural, non-toxic, eco-friendly rubber
Durable: Better material makes it more sturdy and will not be chewed off easily
Safe: Designed to be safe for your dog's gums, ChewBrush™ will not hurt your dog's health and helps them to clean their teeth and protect them from oral diseases
Comfortable: Designed to clean teeth on both sides and is angled to fit comfortably in your pet's mouth
Effective: 360 degrees all-around deep teeth cleaning
Stable: Includes a stable base to make it easier for your pet to hold the toothbrush
Encourage your pet to clean his teeth every day to prevent serious health problems.
A sweet smell helps attract your pet to chew the brush, which can save energy and time
INCLUDED:
1x ChewBrush™