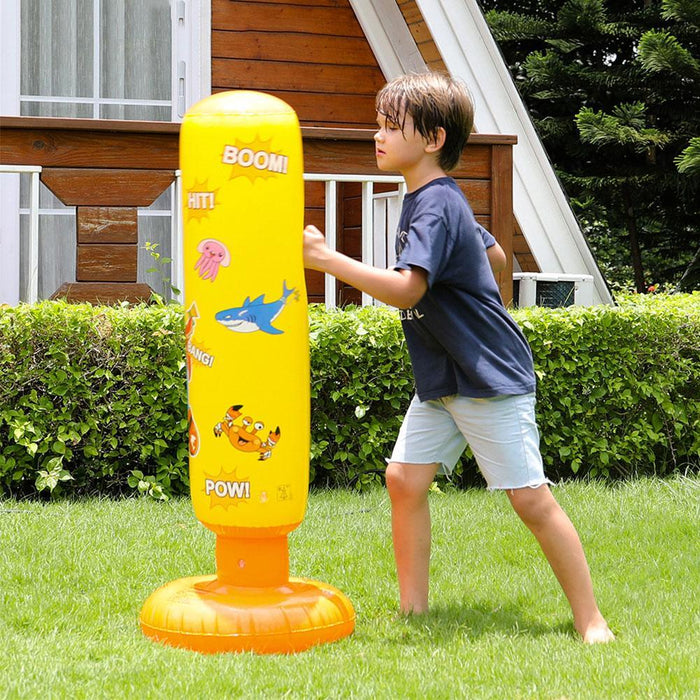 PunchPal™ - Kids Heavy Duty Standing Inflatable Punching Bag
Keep your child active even when they're at home by letting them play with the PunchPal™ kids punching bag. With its inflatable design, the kids boxing bag is safe for kids to punch and kick without them getting hurt.
Measuring at 49 inches tall, the kids standing punching bag is just the right size for any growing kid to play with. It's even decorated with cartoon sea creatures, making it perfect for kids of all ages to enjoy.
Unlike standard punching bags, this kids inflatable punching bag comes with a tumbler base that can be filled up with water. This will ensure that the childrens' punch bag will stay put even through rough play.
Best out of all, the youth punching bag is available in blue and yellow, giving your child the option to choose the perfect one for them. Let your child have fun while they exercise by providing them with our premium kids punching bag.
FEATURES
DURABLE: Made with high-quality PVC, the kids boxing bag is highly durable and can withstand regular use. Not only that, but the kids standing punching bag is versatile enough to be used both indoors and outdoors.
SAFE: All the materials used to create the kids inflatable punching bag are non-toxic and safe. This way, you won't have to worry about the childrens punch bag affecting your child's health in a negative way.
EASY SETUP: Our youth punching bag comes deflated and needs to be filled with air before use. Once it's fully inflated, the base of the kids punching bag must be filled with water for it to stay freestanding at all times.
SPECIFICATIONS
Material: PVC

Height: 49.21 in
INCLUDED:
1x PunchPal™ Kids Boxing Punching Bag