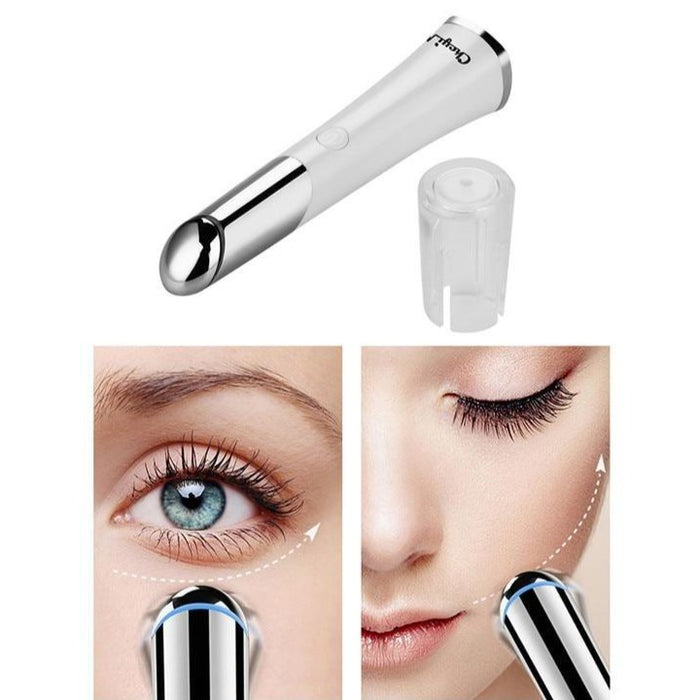 GlowPen™ - Microcurrent Blue & Red LED Light Therapy Facial Device
Benefits:
Reduces Dark Circles & Under Eye Bags to present the most beautiful you
Tightens Your Skin

 

to rid the appearance of fine lines and wrinkles 
Improves Blood Circulation

 

and relaxes muscles relieving eye fatigue and facial tension
Prevents Aging Signs

with advanced microcurrent technology 

specially designed for skin firming and tightening, reducing aging signs and sagging neck and face

Increase Absorption of Skincare Products such as creams, serums, and lotions
Tighten Your Skin & Feel Younger 
The GlowPen™ adopts the newest microcurrent technology which efficiently massages and tightens your skin. It provides thermal, high-frequency micro-vibration that is very helpful in relaxing your skin and restoring your youthful look.
Rejuvenate Your Skin Without Spending a Fortune on a Facelift
It is never too early or late to start anti-aging around the eyes and your face. The EMS microcurrents help penetrate nutrients deep into skin layers and stimulate collagen production, which firms the skin and promotes the fading of fine lines. It delivers a revitalizing massage that reaches the deep layers of the skin, relaxing the small facial muscles and giving you healthy-looking glowy skin. The GlowPen™ produces a high-frequency vibration that drives your skin to efficiently absorb facial creams and other skincare products
 Reduce Dark Circles, Under-Eye Bags & Puffiness
The under-eye skin is one of the thinnest and most delicate areas of skin in the human body and is easily neglected in basic skin care. The area under the eyes can appear darker due to constricted blood vessels causing hyperpigmentation, or from thinning of the skin around the eyes. This device uses high-frequency sonic 10,000/minute vibrations to effectively rebuild your skin collagen, tighten up the pores, reduce dark circles, under-eye bags and puffy eyes, reduce fine lines & crows feet (eye wrinkles)
HOW TO USE:
Long press and hold the key for 3 seconds to enter the working mode directly. If the LED's blue light is on, it indicates that it is the vibration massage mode, and the LED's red light is on, it is the warm + vibration mode. The first use of the default working state is the blue light.
Press the key once more, turn on the red light (warm + vibration mode), and then press and hold the key for 3 seconds to turn it off.
 SPECIFICATIONS:
Battery capacity: 300mAh
Charging time: 90 minutes (Charge for 3 hours for the first time. When the battery is full, the head indicator will light blue and not flash)
Continuous duty: 120 minutes
Auto Timer: 5 minutes
Item Size: 12.7x2.7cm
INCLUDED:
1x GlowPen™ Microcurrent Laser Pen LED Light Therapy Facial Device
1x USB Cable
1x User Manual