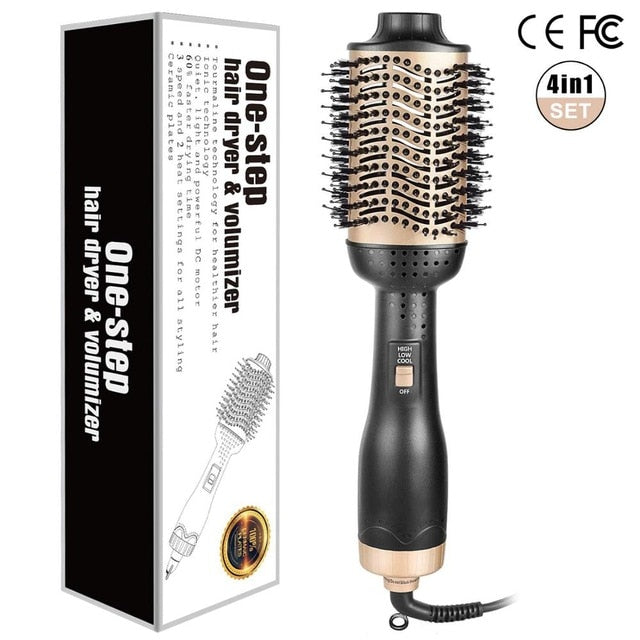 Gold PRO™ - 2 in 1 Hair Dryer & Volumizer Brush
Looking for the power of a blow dryer and the flexibility of a styling brush all in one? The One-Step - Pro Hair Dryer & Volumizer Brush has been upgraded to the new Gold PRO™!
Using the negative ion technology, negative ions saturate the airflow to help condition, smooth, and make your hair shinier while reducing the frizz and static. It also prevents over-drying and reduces heat damage giving your hair a healthier overall look.
Different hair types require different settings. The Gold PRO™ has multiple heat settings. There are three adjustable heat-levels for those hair types:
"High" for thick hair
"Low" for fine hair
"Cool" setting to lock in your beautiful hairstyle
The Gold PRO™ is very versatile with its oval design, as you can place it closer to your scalp for lift, make it straight, wavy, and even curly. Perfect for hair of all types whether damp or dry, the Gold Pro is just what you need. Ideal for home, travel, and those on-the-go.
The Unique Oval Design allows flexibility to move freely without the bristles becoming tangled. With the massaging ball tips, it helps dry, smooth, and style all hair types in half the time of the conventional methods.
The Difference Is:
HOW TO USE THE GOLD PRO:
Towel dry your hair to remove excess moisture for best results
Separate your hair into several sections and use the right Gold PRO™ setting for your hair type
The mixed nylon-pin with rounded tips quickly detangle your hair while the tufted bristles with boar technology gently grip and smooth out your hair
For silky smooth hair, place the brush close to roots and brush down toward the ends
For voluminous hairstyles, place the Gold PRO™ under the section of hair close to the roots and roll outward to the ends
To curl the ends, place the Gold PRO™ UNDER the ends and hold for 2-3 seconds, slowly rotating to the ends. Repeat this step for that overall curly look