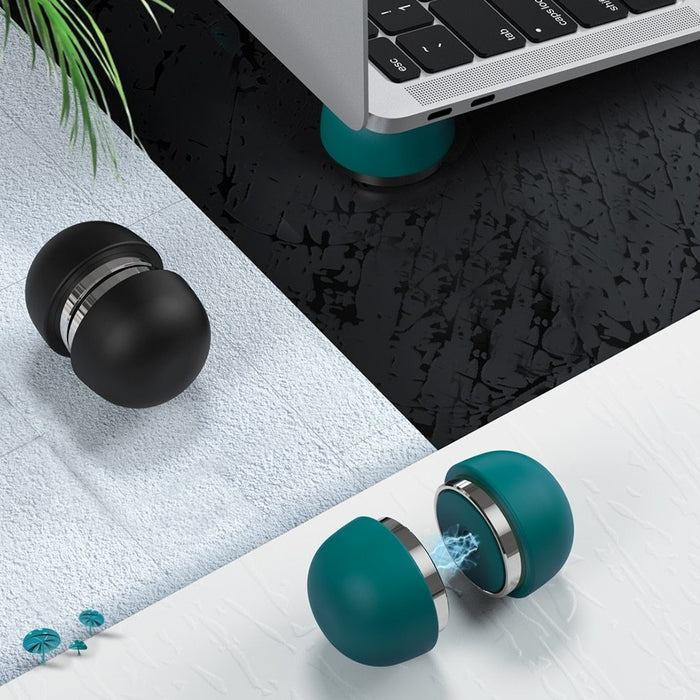 Mushroom™ - Pocket Laptop Stand
The Smallest Laptop Stand Ever!
Whether you're working from an office or from your home, nearly everyone these days use a laptop because it is more portable and convenient to use. It takes up lesser space, can be moved around which is perfect for anyone who needs to get things done anywhere.
But when it comes to ergonomics, a laptop is not the greatest choice since you cannot adjust the height of the keyboard and screen separately. As a result, people hunch over when working on a laptop, which can lead to muscle strain and pain in the upper back, neck, shoulders, hands, wrists, and arms.
Thankfully, there is a convenient and affordable solution to this problem - a laptop stand! Most laptop stands are quite versatile but the Mushroom™ Laptop Stand is by far the best you can get when it comes to portability. It is so tiny and lightweight that you can just put it in your pocket and it gives the same benefits as your regular, oversized laptop stand.
BENEFITS & FEATURES
Small & Exquisite Design:

The small and compact size of this laptop stand does not block the air outlet and increases the fan efficiency of your laptop to avoid overheating
Take It Anywhere You Go:

No need to bring in an extra bag for your laptop stand because this can fit your pocket or any pouch. it is lightweight too
Easy To Clean:

When it gets dirty, it can easily be washed with water
Improves Posture & Reduced Eye Strain:

Using this laptop stand is very beneficial for your health. This is recommended for all computer workers or for tablet users
Magnetic:

If you worry that this is too small and can easily get lost, this conveniently features a magnetic surface that keeps them together to avoid being separated
Durable & Nonslip Material:

This small laptop stand is made from durable silicone and alloy which makes it sturdy enough to hold your laptop
SPECIFICATIONS
Material: Silicone+Alloy

Weight: 33g

Colour: Black/Green

Applicable Products: All laptops, tablets

Brand Name: Oatsbasf

Application: Laptop

Name: Mushroom Laptop Stand

Color: Black/Green

Material: Silicone + Alloy

Applicable Product: All Laptop

Feature:

Small/Portable
INCLUDED
1x Pair Mushroom™ Laptop Stand
v