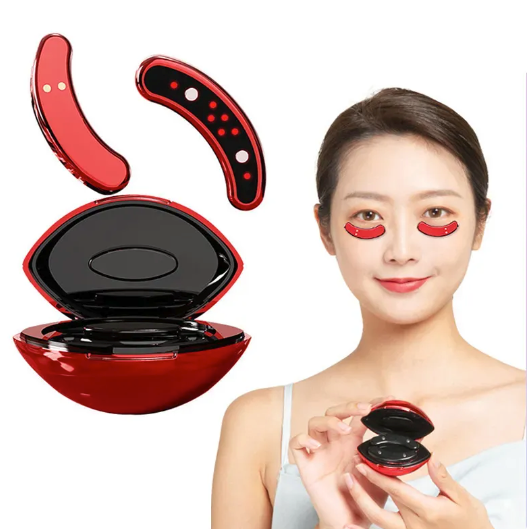 Elevate your eye care routine with the Eye Beauty Device PRO, a revolutionary hot compress massage tool designed to enhance the beauty and well-being of your delicate eye area. Immerse yourself in the ultimate relaxation and rejuvenation experience, all in the palm of your hand.
Key Features:
Advanced Hot Compress Technology: The Eye Beauty Device PRO integrates advanced hot compress technology, delivering a gentle and soothing warmth to the eye area. This promotes blood circulation, reduces eye fatigue, and alleviates the appearance of puffiness and dark circles.

Portable Elegance: Compact and travel-friendly, this mini device is your beauty companion on the go. Slip it into your bag and indulge in a spa-like eye massage wherever life takes you. The sleek design ensures not only effectiveness but also a touch of elegance to your beauty arsenal.

Versatile Massage Modes: Customize your eye care with the Eye Beauty Device PRO versatile massage modes. Choose from a range of settings to suit your preferences, whether you're looking for a gentle massage to relax or a more invigorating mode to revitalize tired eyes.

Precision Craftsmanship: Engineered with precision in mind, this beauty device is specifically designed to target the contours of the eye area. The ergonomic shape ensures comfortable handling, allowing you to effortlessly incorporate it into your daily beauty ritual.

Enhanced Product Absorption: Maximize the benefits of your favorite eye creams and serums. The gentle heat from the device enhances product absorption, allowing your skincare to penetrate deeply for maximum effectiveness.

Intelligent Design: The Eye Beauty Device PRO is equipped with smart features for ease of use. Intuitive controls make it accessible for users of all levels, while the automatic shut-off ensures safety and energy efficiency.
Order Now and unlock the secret to radiant and refreshed eyes. The Eye Beauty Device PRO is not just a device; it's your daily retreat for a brighter, more youthful gaze. Elevate your eye beauty routine today.