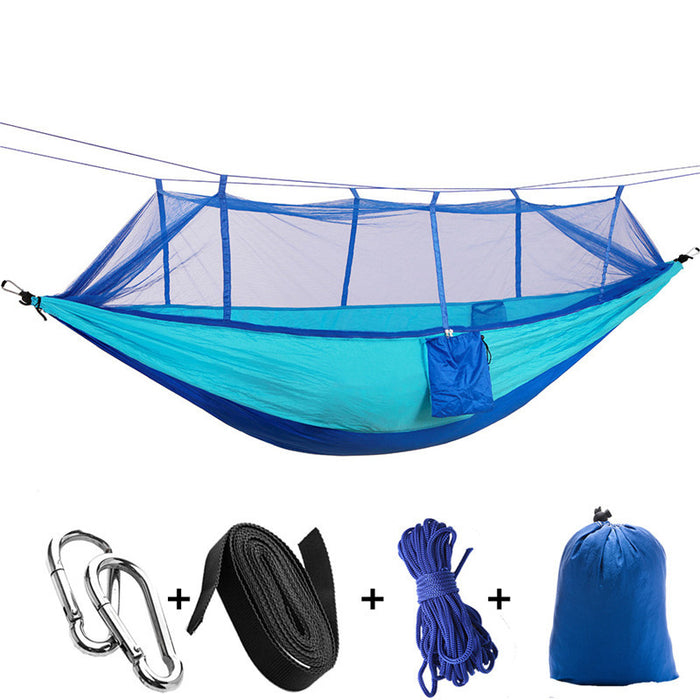 Camping Hammock with Mosquito Net
Do you love the idea of relaxing in a hammock, but hate those pesky bugs that won't leave you alone?
FEATURES AND BENEFITS:
HEAVY-DUTY & SECURE: Made with high-quality parachute nylon fabric with a weight capacity of up to 650 lbs.
BREATHABLE MOSQUITO NET: A mosquito net is attached with the hammock to keep the bugs out and yet allows good airflow.
EASY SETUP & HANGING: With our heavy-duty carabines and straps it can be quickly set up within 3 minutes from trees, posts, poles, etc.
LIGHTWEIGHT & CONVENIENT: The hammock only weighs 1.5 lbs great for on the go and has an outer pouch that can be used to hold your phone, book, keys, drinks, and other things.

The hammock can be folded into the pouch which is attached to the side of the hammock when not in use. Since the hammock is equipped with a mosquito net, you will never worry about being bitten by mosquitoes or other insects again.

This Hammock is strong, tough, and comfortable and can fit two people in it so you can enjoy those beautiful moments with a loved one. It also comes with a safety pocket sewn on the side of the hammock, so you can easily and safely put your mobile and other personal items in it, while you swing listening to mother nature, relax and enjoy a serene view, and read a book without being irritated by pesky bugs.

Also, this hammock is very lightweight and compact which makes it easier to take on your backpacking travels, hiking, trekking, and camping. Just attach the hammock to your bag and you have a high-quality hammock to rest in anywhere you go.
SPECIFICATIONS:
Material: Nylon
Net weight: 0.7kg/1.5lb
Max load: 300kg/661.3lb
Straps length: 300cm/118in
Fabric size: 260x130cm/102.3x51.1in
INCLUDED:
1x Camping Hammock With Mosquito Net
2 x Straps
2 x Carabiners
1 x Bag