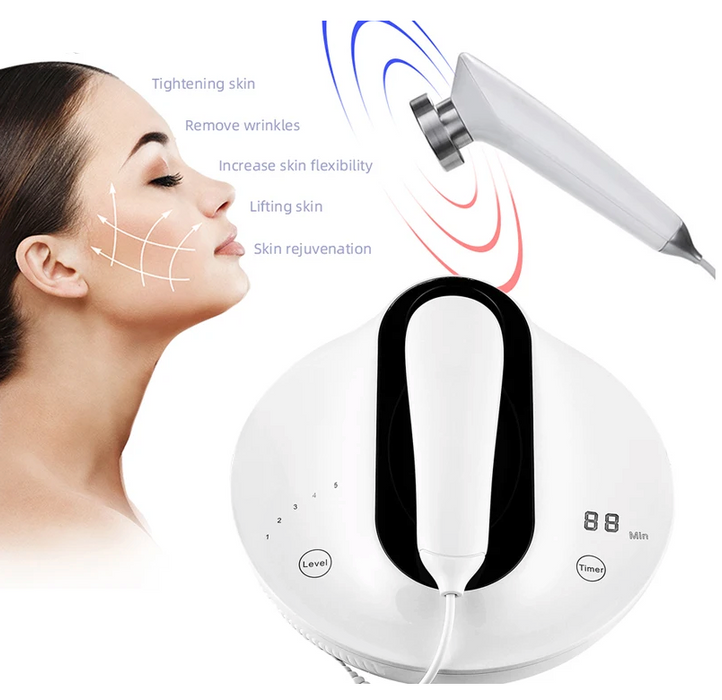 Radio Frequency Skin For Facial Body Eye Pro
Rediscover Your Radiance with Radio Frequency Skin For Facial Body Eye
Welcome to the epitome of beauty and rejuvenation with our expertly crafted Radio Frequency Skin device. Transform your skincare routine with cutting-edge technology designed to enhance the natural beauty of your facial, body, and eye areas. This device is your passport to a radiant and youthful complexion.
Key Features:
Revolutionary Radio Frequency Technology: Elevate your beauty regimen with the power of Radio Frequency. This groundbreaking technology stimulates collagen production, promoting skin elasticity, reducing fine lines, and giving you a firm and lifted appearance.

Versatile for Face, Body, and Eyes: Experience comprehensive rejuvenation for your entire visage. This device is versatile, catering to the unique needs of your face, body, and delicate eye area. Say goodbye to signs of aging in multiple areas with one advanced tool.

Enhanced Skin Tightening and Contouring: Achieve a sculpted and defined look with our skin-tightening and contouring features. The Radio Frequency Skin device promotes collagen remodeling, resulting in improved skin firmness and a more youthful silhouette.

Non-Invasive Beauty Transformation: Embrace the luxury of non-invasive beauty treatments. Our device provides professional-grade results without the need for invasive procedures, allowing you to enjoy a spa-like experience in the comfort of your own home.

User-Friendly Design: The device is thoughtfully designed for ease of use. Whether you are a skincare expert or a beauty enthusiast, incorporating this tool into your routine is seamless, offering a hassle-free experience.
Why Choose Radio Frequency Skin For Facial Body Eye?
Comprehensive Rejuvenation: Address multiple skincare concerns with one versatile device.

Effortless Integration: Incorporate professional-grade treatments into your routine with ease.

Visible Results: Experience visible improvements in skin texture, tone, and firmness.
Elevate your skincare routine and embrace the transformative effects of Radio Frequency technology. Rediscover your radiance and let your natural beauty shine with the Radio Frequency Skin For Facial Body Eye. Indulge in the future of beauty today!