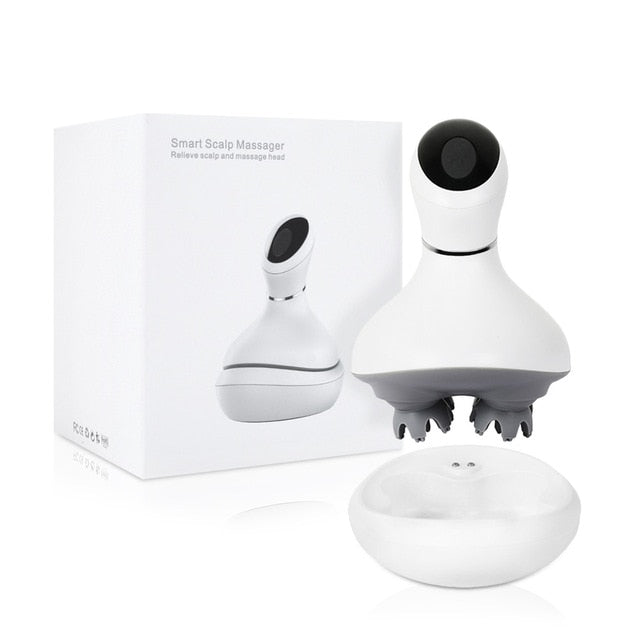 SmartScalp™ Waterproof Scalp Massager
This Wireless Waterproof Scalp Massager Will Give You Goosebumps
Golden Shop USA is committed to bringing comfort to your doorstep and the latest, upgraded, 4D, waterproof, wireless, electric head massager does exactly that.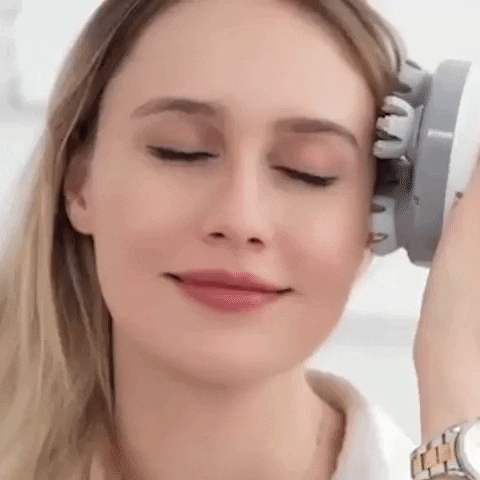 Who does not like the sound of a calming and soothing massage after a long day at work? However, the mere thought of going through the effort of making your way to a massage parlor or spa squashes all those pleasant and relaxing dreams. This massager incorporates unique design features bringing professional-grade spa comfort to your home:
Simulates Real Human Professional-grade Massage
360 - One-Button Control deep scalp massager
Waterproof IP6 certified allows use in the shower
4 massage hands featuring 84 massage points
Cordless, Rechargeable Electric Head Massager
Lightweight, portable, wireless
Compact, high-end, luxury design sporting curved handle for easy grip
Environment-friendly ABS engineering plastic with

silicone massage head
Benefit From Ancient Acupuncture Techniques With Smart Scalp
Suitable for use on the head, scalp, shoulder, arm, wrist, leg, and foot, this device is truly the only all-in-one therapeutic massager You will ever need.
Unlike expensive spa trips, this handheld massager is specially engineered to relieve muscular tension and ease scalp aches.
The massager design draws inspiration from the ancient massaging techniques of Shiatsu and Kneading to relieve human muscle tension. The device works seamlessly and noiselessly, making it a holistic massage experience.
Sleek Design Emulates Human Touch
The wireless electric head massager features a unique 360 - button. A single touch system allows the device to be powered on and activated. Forward and reverse kneading motions are also controlled by the unique button. The control also allows the user to self-adjust the massage intensity as per their preference. 4D electric scalp massager packs an LED screen making it convenient for the user to keep a tab on massager speed and to follow up on device power. With a uniquely designed massage head, sporting 4 massage hands and 28 massage heads, this wireless scalp massager effectively mimics the spa-grade pressure by activating 84 massage points.
The user can adjust the rotation of the 4 massage heads in both clockwise and counter-clockwise directions for optimum effect.
Ultimate Massager for the Entire Family
Boasting an IP6 certification, the wireless scalp massager is equally suitable for use in dry and wet conditions.
The ultra-smart scalp massager:
Alleviates muscular stress
Increases blood circulation
Relieves Soreness
Enhances blood flow to the scalp
Promotes hair growth
Deep relaxation
Stimulates better sleep reducing insomnia
Soothes itchy scalp conditions and prevents hair loss
Heightens relief in arms, back, neck, shoulder, calves, legs, and feet
What Our Customers Say:
"I originally bought this for my wife as a gift, but my kids and I love it. At first, it is a little scary because you think it will tangle your hair but the device works perfectly. A must for anyone that wants to relax and enjoy a great massage that even works great on the shoulders and back. Perfect gift! Even my cat cannot get enough of it. Anyone that uses this thing is gonna love it." - Brandon V.
The detachable massage heads make cleaning a breeze. Equipped with USB dock charging, this handy massager is lightweight and travel-friendly, perfect for use at home, in the office, or while globe-trotting. With food-grade silicone heads, this massager is skin-friendly, posing no environmental risk, and safe to use on any part of your body.
With this upgraded, waterproof, wireless, electric massager, take your spa with you on the go!

Package Includes:
1x Smart Scalp - Massager
1x USB cable (no charging plug)
1x Manual