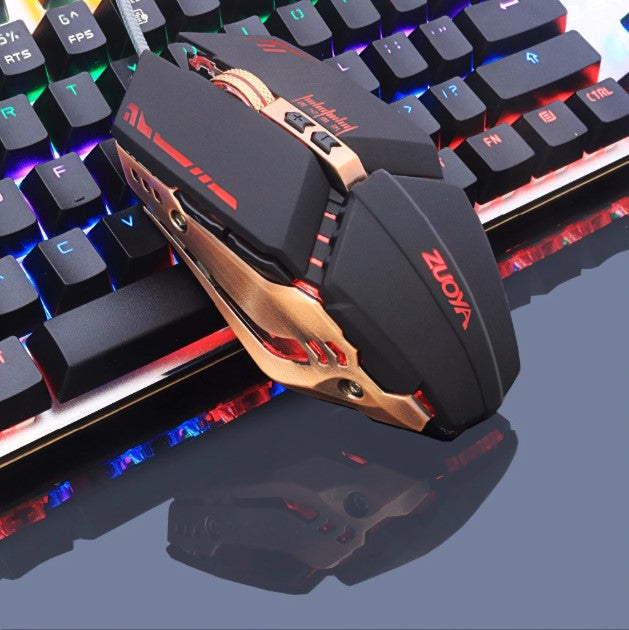 Wired LED Light RGB PC Gaming Mouse
take your gaming experience to the next level
Looking for a perfect LED gaming mouse that'll spice things up while you game and take your entire experience to the next level? Our exclusive wired LED gaming mouse was designed to make it extremely convenient to press quickly without lag and make the entire experience comfortable.
Equipped with a special curved grip design, this good gaming mouse significantly reduces the pressure placed on your wrists while gaming and increases response times. Plus, the buttons on our light gaming mouse are extremely sensitive and immediately respond to touch.
The best part of all, our PC gaming mouse emits a vibrant LED color which not only improves the atmosphere but also reduces the overall eye strain. Let your favorite color glow from this cool gaming mouse while you enjoy playing your favorite game!
FEATURES
ERGONOMIC DESIGN: The smooth and grip design of this RGB mouse will give you the fast-paced operating experience you need to win. Helps increase the intensity of the game and improve performance.
STYLISH: Who said you could only get fun out of playing video games? This PC gaming mouse makes it so that you have the time of your life both while pressing the buttons and playing the video game. An extremely colorful and vibrant experience!
BUILT TO LAST: We know that sometimes, defeat is inevitable. In such times, you may even feel like smashing the wired gaming mouse. Our light gaming mouse is extremely durable and can easily handle large amounts of external pressure with ease. No matter how hard you press the buttons, they will not become loose.
INCLUDED:
1x Wired LED Light RGB PC Gaming Mouse