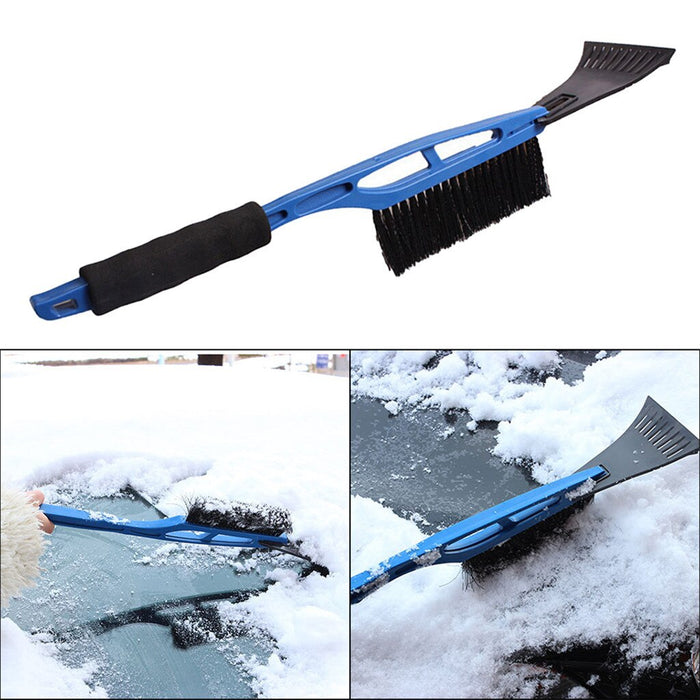 2 In 1 Car Windshield Ice Scraper Broom
The cold months of winter are finally here and with the cold months come a bunch of snow and ice. Scraping ice and snow off of cars can often be a task but with our Car Windshield Ice Scraper Broom, you can now do it within minutes! Designed for speed and convenience, our car ice scraper wipes away all of the extra snow with absolute ease.
It is a dual windshield scraper, meaning the brush and ice scraper are created as one piece. The thick bristled brush on our snow broom for car makes it easy to clear snow from your windshield, windows, and roof while the sturdy scraper on the tip makes it easy to remove ice from your windows. In addition, the built-in ice picks on this snow scraper allow you to actually break ice prior to scraping it off; a convenient way to prevent car damage.
Best part of all, the
ice scraper
was made with high-strength reinforced ABS material and designed to last. The brush and scraper are not easily damaged and will last for many more winters to come.
FEATURES
ERGONOMIC & CONVENIENT DESIGN: The dual, 2-in-1 design of our Car Windshield Ice Scraper Broom makes it easy to get rid of both the snow and ice on the car. In fact, it helps save tons of time and energy.
PORTABLE: Our windshield scraper is extremely easy to carry and convenient to use due to its small size. After use, simply store the car ice scraper away in your trunk or under your car seats.

BUILT TO LAST: Simply put, our car snow broom was made with high-quality ABS plastic and built to last years. The ice scraper can cut through thick ice and snow with absolute ease.
INCLUDED
1x Car Windshield Ice Scraper Broom
SHIPPING INFORMATION:
Your 2 In 1 Car Windshield Ice Scraper Broom will be packaged and shipped to you within 1-3 days of ordering. Keep in mind this item is shipped from warehouses across the globe depending on your location and stock availability, so please allow for 10-15 days for delivery after processing time. We always ship from the warehouses with the fastest delivery for each customer.