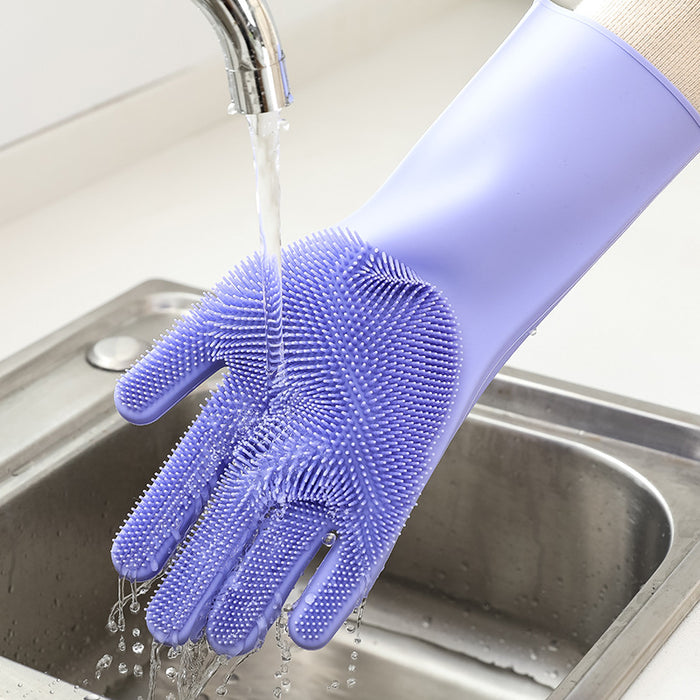 SiliClean™ - 3-in-1 Magic Silicone Dishwashing Gloves
Wash gloves have to be able to handle not just soapy dishes but slippery detergent bottles and smooth plastic utensils. We have added tiny gripping nubs to the surface so you can manage them all with ease. These cleaning gloves also feature a narrower middle area on the wrist which ensures a snug fit and means that they only come off when you want to take them off!
Soft & flexible silicone gloves deep cleaning every corner, fast foaming to save half of the detergent than usual, no scratches with bristly silicone on kitchenware & glass, replace all other cleaning supplies with one pair of gloves!
This Magic Silicone Dish Washing Glove is made of high-quality and environment-friendly silicone.
Easy to Clean: Restrains Germs! Can be Sterilized in Boiled water, Microwave or Dishwasher
Easier to use and clean: use this silicone brush to replace your old style brush for improving kitchen hygiene.
Super easy to clean the brush, just rinse with water or put it in the dishwasher, it will have no residue.
Cute Design with Apple Shapes and Colors!

Perfect

as Small Gifts
Pet hair massage, Cleaning bath, Kitchen
Package Includes:
1x 3 in 1 SiliClean - 1 pair of Silicone Dishwashing Gloves