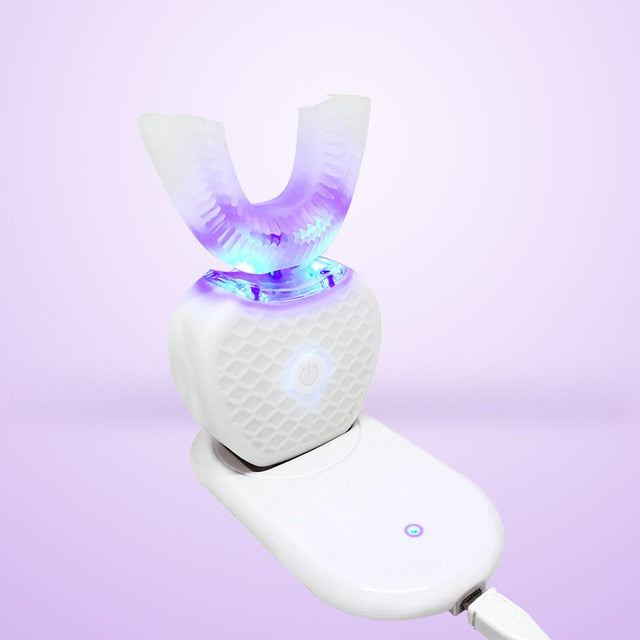 360 Degrees Sonic Electric Toothbrush
Now You're Able to Brush Your Teeth in a Fully Automatic Hands-Free Process!
This innovative U-shape Electric Toothbrush uses sonic cleansing technology to deliver a gentle yet dynamic cleaning action. It drives fluid deep between teeth and along the gum-line to help prevent the development of gum disease and improve gum health.
Featured with its super-high frequency of 5000 to15000 strokes per minute, it can effectively remove coffee stains, plaques, debris from your teeth.
The 360 - Sonic Toothbrush fully cleanses the mouth, clears plaque, stops bacteria to reduce cavities, and freshens the breath.
There are 4 different modes of the 360 - Sonic Toothbrush so you can take advantage of the soft cleaning mode, strong cleaning mode, massage gum mode, and teeth whitening mode. Pick your mode and let the 360 - Sonic toothbrush do the rest.
Simply insert the U-Shaped mouthpiece, sit back, relax, and watch your teeth get cleaned and whitened better than a traditional electric toothbrush.
The mouth tray is made out of extra soft premium food-grade silicone for maximum comfort during the brushing.
FEATURES:
4 Modes: Soft cleaning mode, strong cleaning mode, massage gum mode, and teeth whitening mode.
Innovative Shape: The U-shape toothbrush head completely fits your teeth and oral cavity for cleaning your teeth as thoroughly and efficiently as possible.
Ultrasonic Wave Technology: Fully automatic electric toothbrush lets you enjoy a new and effective cleaning way. Combined ultrasonic wave technology, can remove more tooth stain, plaque, bacteria in a short time, providing you with healthier and whiter teeth.
Convenient USB Charging Base: With the quick-charge feature that gives you one week's use from less than 90 minutes charge.
Waterproof Design: Use it in the shower or bathroom with worry-free.
Safe And Comfortable: The U shape toothbrush head is made from food-grade silicone, soft, non-toxic, and no harmful substance.
HOW TO USE:
Connect the mouth tray to the core unit.
Squeeze the toothpaste on both sides of the mouth tray.
Press the start button.
Switch to the Cleaning - mode. Wait 10 seconds.
All done!
SPECIFICATIONS:

Material: Silicone and ABS
Size: 1.2x2.6x4.5in
Weight: 300g

Cleaning time: 45 seconds

Charging time: 90 minutes

Frequency: 5000-15000 times/minute
Power Supply: USB charging
INCLUDED:
1x 360 - Sonic Toothbrush, Teeth Whitening, and Gum Massager
1x Micro USB Charger Cable (Use in any country)
1x Charging Dock
1x User Manual