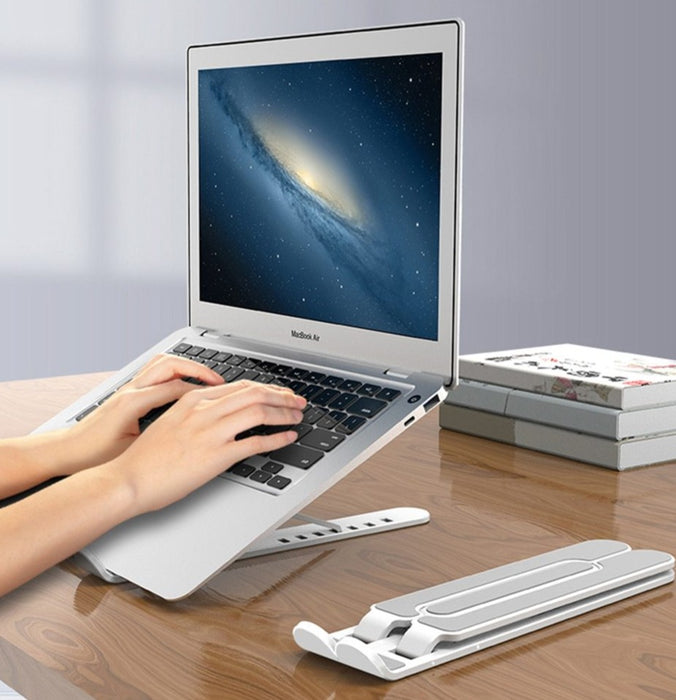 ProDraw™ Adjustable Foldable Stand
Work More Efficiently with ProDraw™ Adjustable Foldable Stand
Now that most of us are staying at home, we are spending most, if not all, hours scrolling through our screens. This may lead to eyestrain, hand fatigue, and even neck and back pain. Thanks to ProDraw™ Adjustable Foldable Stand, you won't have to suffer from those inconveniences anymore. With 7 adjustable heights, it will hold your laptop at an ergonomic angle that adjusts to suit the best visual and posture for you. The surface of the bracket is covered with silicone to prevent your laptop from slipping. Use it for any notebook and tablet with 10" to 17" size.

FEATURES
WIDE COMPATIBILITY: Great for laptops or tablets up to 17 inches. You can use it as a laptop stand for Dell, Macbook Pro, Macbook Air, iPad, HP, and many more. You can even use it for reading books!
IMPROVES YOUR POSTURE: Say goodbye to your pain! Our laptop holder has 7 height-adjustable levels. You will find the most comfortable viewing angle that will relieve your neck fatigue and back pain.
STURDY & ANTI-SLIP: Made of premium ABS and designed as a triangle structure, the SmartStand™ laptop riser can stably hold up to 20lbs. With a large anti-skid silicone mat, it can secure your laptop in place and protect your device from scratches and sliding. Plus, the round smooth edges will never hurt your hands
EASY TO CARRY: The folded size is only

10x2.3 inches

and you can easily take it with you anywhere, especially on business trips
HEAT DISSIPATION: An open-cut design offers a great space to increase airflow to keep your computer cooler and prevent overheating and crashes
SPECIFICATIONS:
Material: Premium ABS and Silicone
Dimension Folded: 10 x 2.3 inches
Dimension Open: 10 x 7.5 x 4-6.3 inches
INCLUDED:
1x Laptop Stand