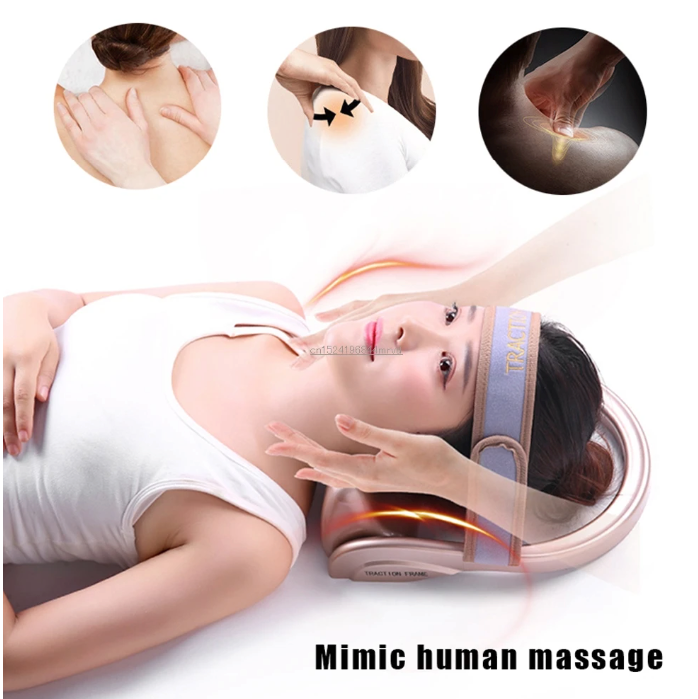 Air neck traction massager health care Cervical PRO
Introducing the Air Neck Traction Massager Health Care Cervical PRO – an advanced solution for neck decompression and posture enhancement. Crafted with expertise and innovation, this revolutionary massager is designed to alleviate neck discomfort and promote optimal spinal alignment for a healthier you.
Key Features:
Dynamic Air Traction: The Cervical PRO employs dynamic air traction technology, providing a gentle and controlled stretch to your neck. Experience targeted decompression, relieving pressure on the cervical spine and reducing stiffness caused by daily activities and poor posture.

Customizable Traction Levels: Tailor your decompression experience with adjustable traction levels. Whether you're looking for a mild stretch to ease tension or a more intense decompression for therapeutic relief, the Cervical PRO offers versatility to suit your comfort and needs.

Posture Correction Support: Beyond decompression, this massager is designed to support posture correction. Regular use helps counteract the negative effects of slouching and sedentary lifestyles, promoting better spinal alignment for improved overall posture.

Ergonomic Design: Crafted with precision, the Cervical PRO's ergonomic design ensures a comfortable fit. The adjustable straps and intuitive controls allow you to customize the device to your unique body shape and preferences, providing a personalized and effective experience.

Portable and Convenient: With its lightweight and portable design, the Cervical PRO enables you to prioritize your neck health anywhere, anytime. Use it at home, in the office, or even while traveling to maintain your decompression routine on the go.

Heat Therapy Enhancement: Elevate your decompression experience with optional heat therapy. The soothing warmth enhances blood circulation, promoting muscle relaxation and a deeper sense of relief during your neck traction sessions.
Order Now and experience the transformative benefits of the Air Neck Traction Massager Health Care Cervical PRO. Prioritize your neck health, relieve discomfort, and enhance your posture with this expertly designed and technologically advanced device.