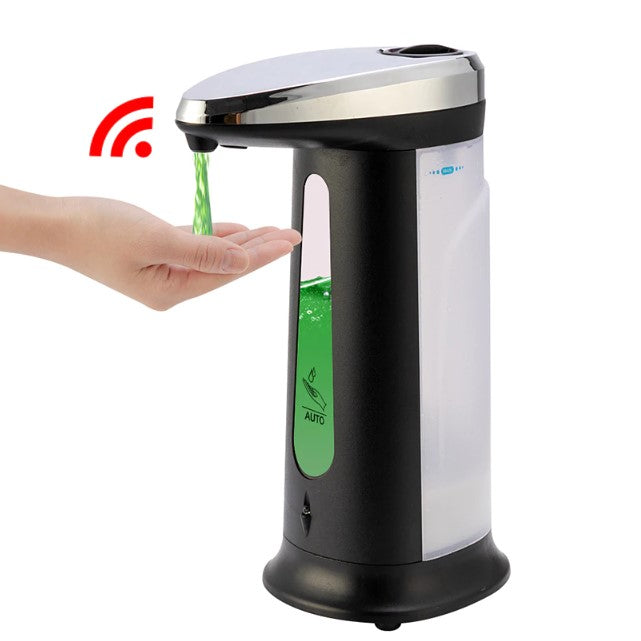 Automatic Touchless Soap Dispenser for Kitchen Bathroom Sink
eliminate contact and germ-spreading with this auto soap dispenser
Did you know that traditional soap dispensers contain over 10,000 different types of germs due to the manual hand pump? Our exclusive dish soap dispenser was designed to completely eliminate any type of contact while providing just the right amount of soap for a thorough cleanse.
Equipped with special motion-detecting technology, this automatic soap dispenser automatically dispenses a set amount of liquid soap every time it detects motion under the hole. Not only does this hand soap dispenser reduce any chances of spills or over-usage, but it is also easy to fill up and works with all liquid soaps.
The best part of all, the unique design of this bathroom soap dispenser makes it a perfect fit for just about any room within the home. Keep yourself and your family clean by completely eliminating contact with this sink soap dispenser.
FEATURES
STYLISH:

Who said touchless soap dispenser had to be boring and ugly? Our exclusive liquid soap dispenser contains a high-quality ABS design which is bound to match just about any room. Simple, stylish, and sleek.
EASY TO USE: Using our soap dispenser is an extremely simple and straightforward task. Simply insert AA batteries inside the dish soap dispenser, fill it up with liquid soap, and wash away! The level of soap is clearly visible from the front, which contains a transparent design.
MADE TO LAST: Simply put, this automatic soap dispenser was built to last. The outer layer of the hand soap dispenser is fully waterproof and won't break even after impact. Plus, this bathroom soap dispenser only exerts a set amount of soap each time to prevent over-use and conserve energy.
SPECIFICATIONS:
Material: ABS electroplated

Capacity: 400ml

Cordless: powered by 4 x AAA battery (Not included)
INCLUDED
1x Automatic Touchless Soap Dispenser