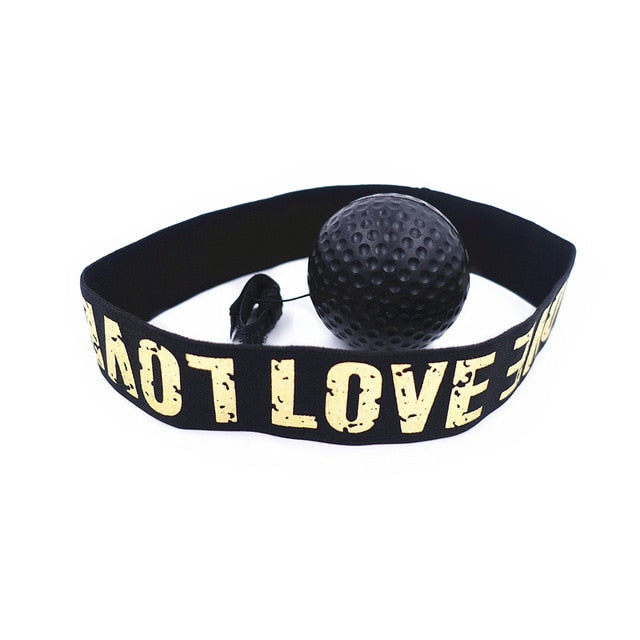 BoxeBand™ Boxing Reflex Headband Speed Ball
The BoxeBand™
Boxing Reflex Ball Headband is a piece of worldwide used boxing training equipment
that consists of a highly durable PU ball attached to a headband with a specially customized strengthened elastic rope. The Reflex Ball is designed to rebound off your punches and return back.
FEATURES:
WIDELY APPLICABLE: Man or woman, adult or child…it doesn't matter! Everyone can use BoxeBand™ either for training purposes or for a fun game that will build your hand-eye coordination and it will nicely compliment your MMA, boxing, or kickboxing training!
LET THE CALORIES BURN: The unpredictability of the rebounding ball, coupled with the intensity of your punches will burn out your arms, chest, shoulders, and upper back. It's ideal for calorie burning, conditioning, and

improving cardiovascular endurance. 
WORK OUT ANYTIME AND ANYWHERE: Don't have time for the gym? With this boxing reflex ball, you don't have to! Train from anywhere.

BoxeBand™ is 

lightweight and portable, which means you can carry it virtually everywhere with you! Simply adjust the headband and you're ready for your daily workout!
THE BEST WAY TO IMPROVE YOUR REACTION TIME & SPEED:

 

You don't have to be a professional boxer to use

 

BoxeBand™

! It's the perfect training equipment that will increase your agility, concentration, and reflexes while providing an intense workout!
SAFE TO USE: 

The boxing ball made with natural rubber and polyester fiber is resilient and durable. It's very soft outside and poses no risk to your eyes and hands.
SPECIFICATIONS:
Material: PU ball
PU ball weight: 19g
Ball type: Beginner ball (20gm)
Rope length: 80cm
Elastic headband diameter: 48cm
Elastic head bandwidth: 3.6cm
INCLUDES:
1x BoxBand™ Boxing Reflex Headband Speed Ball