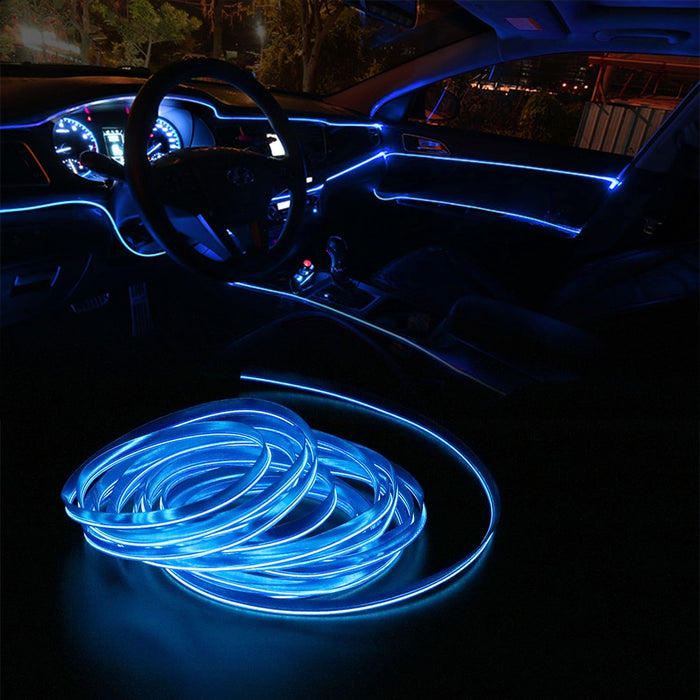 CyberStrip™ Car Interior LED Light Strips
Turn Your Car Into a Spaceship With CyberStrip™
Looking for a way to spice things up within your car and make car rides, especially at night, much more relaxing and ambient? Our exclusive CyberStrip™ interior car lights were designed to brighten up the mood and make them fun within the car by displaying relaxing colors.
Equipped with more than 10,000 hours of life, these car LED lights are perfect for inner car decorations and help you to relax through ambient energy. Our car interior LED lights can be bent into any shape and form, making them easy to fit inside small areas.
Best part of all, this car interior light does not eat up too much energy and runs on very little electrical energy. Plus, the car interior LED light provides a full 360 degrees illumination of light comes as one long 16ft strand, which is more than enough to cover most cars.
FEATURES
EASY SETUP: Installing the ambient car lighting inside your car is an extremely easy task. Simply unwind the inside car lights, cut it up based on your car's size, and stick them onto the desired locations. Simple, easy, and quick.
RELAXING: What's better than enjoying a comforting car ride home after a long, hard day? The car atmosphere lights completely brighten up your car and make it seem as if you're inside a spaceship.
ADJUSTABLE: Adjust the LED lights inside your car fully and make it absolutely perfect for your car's size! It's as simple as cutting and joining different lengths to make one whole.
SPECIFICATIONS: 
Light Color: Red, Blue, Ice Blue

Length: 16ft (5m)

Wire Diameter: About 2.3mm

Power Supply: With Car Cigarette Connect
INCLUDED:
1x Car Interior LED Light Strips
1x Power Cord