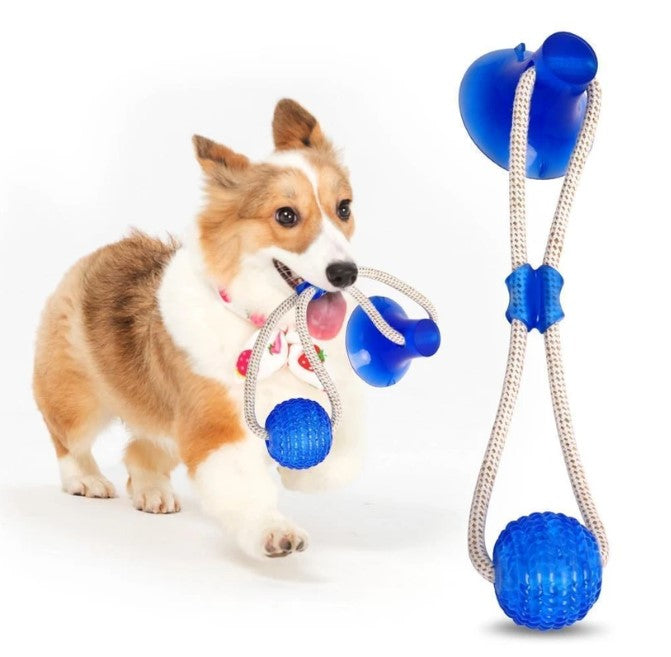 Chewster™ - The #1 Chew Rope Toy For Dogs
Keep your pet busy in your absence while taking care of their health with Chewster™. It is a Pet Tug and Chew Toy that engages your pet in self-tugging and chewing, helping them satisfy their bite cravings and keeping your stuff safe from their biting and predatory nature.
The unique design of this pet toy features a soft, rubber ball on one end and a strong suction cup connected with a thick and strong rope. It provides a self-playing platform to your pet which enhances their agility and reduces their anxiety.
While your pet is playing with Chewster™, it cleverly cleans their teeth without being harsh on their gums making their teeth stronger and eliminates unwanted biting and barking. You can also place a few of these around your house if you have multiple pets.
Chewster™ is the ultimate activity toy for pet parents who want to keep their furry friends busy while promoting their dental and mental health regardless of their age or size.
FEATURES
Promotes Physical and Mental Health: Tugging on Chewster™ is a great way to give your pet the physical exercise that they need. It's, flexible, interactive, and stops your pet from getting bored. It strengthens their jaw muscles and also improves their mood, reducing boredom and stress. 
Provides Dental Care: Chewster™ actually cleans your dog's teeth every single time they gnaw on it. The rugged pattern on the rubber ball provides a better grip and promotes dental hygiene. You can insert some tooth-paste for better cleaning or some treat to train them. 
Easy to Install: Simply stick the suction cap of Chewster™ on a smooth surface like floor, wall, door, etc. and it's good to go. When your dog grabs it and pulls, it won't let go and your dog will have no idea why. It is the tug of war that your pet can never win. 
Tug and Chew: You can hold the suction cup and play tug with your pet when you are home or install it anywhere in your house before going out so they can play on their own. Both the rubber ball and suction cap are bouncy and chewable, making it ideal for pets. 
Eco-Friendly: The chew ball and suction cups of Chewster™ are made with food-grade non-toxic polymer materials, it is safe for your dog to bite and play with. Even if it is accidentally swallowed by your pet, it won't cause any harm to your pet. 
Ultra-Durable: Made with TPR and cotton fiber, it is very sturdy, durable and easy to clean. It won't break, snap, or unravel no matter how hard your dog pulls on it or how sharp their teeth are. The thick cotton rope is designed to prevent any backfire or kickbacks.
INCLUDED:
1x Chewster™