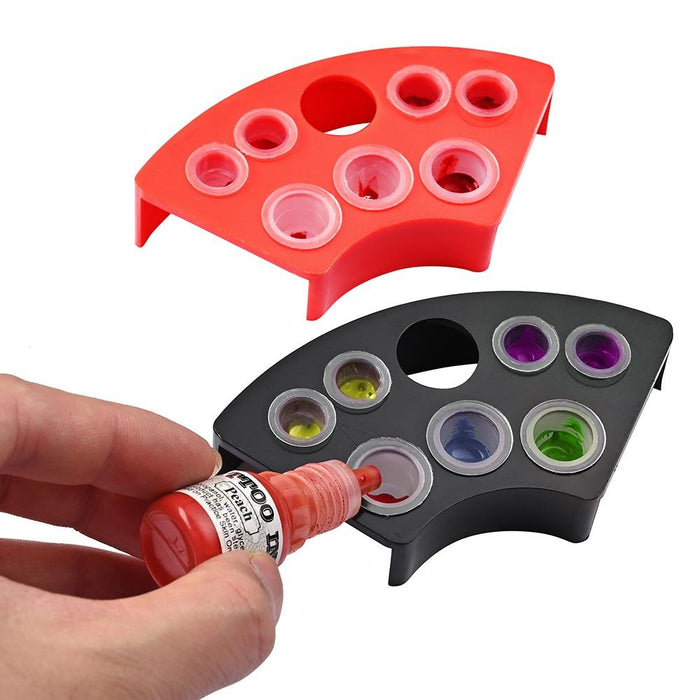 Tattoo Ink Cup Holders 2ct/Pack
You are viewing 2 pack 4"x2"x1" Tattoo Ink Holder Stand features a unique curved fan design to help you absorb tattoo ink ergonomically, which is perfect to hold tattoo ink cups firmly and orderly to prevent spilling, making tattooing a breeze. It is suitable for professional tattoo artists or beginners to assist creative tattoo design.
 The perfect choice for tattoo artists.
FEATURES:
8 Holes Cup Holders - 2 pcs 4"x2"x1" Tattoo Ink Cup Holder Stand in red and black color, well fit 1 pcs 17 mm, 2 pcs 14.5 mm & 3 pcs 10 mm ink cups, the perfect tool to help you organize the colors orderly & hold tattoo ink cup in place to prevent spilling, making tattooing a breeze
Humanized Design - Unique fan design in a curved shape with a slight tilting angle for allowing you to absorb ink in a more ergonomic way
Durable - Made of hard ABS plastic, firm and durable for daily use, no rusting or corrosion compared to the metal structure, also prevents infection caused by corrosion, more comfortable and safer to use
Stain Resistance - Come in black and red color, not easy to get stained by the tattoo ink or pigments, suitable for professional tattoo artists or beginners to assist creative tattoo design
Easy Cleaning - Washable for easy cleaning, water flushing to effectively remove ink or pigments for quick and convenient cleaning
SPECIFICATIONS:
Overall Dimension(LxWxH): 3 15/16" x 1 15/16" x 1" (10 x 5 x 2.5 cm)
Fit Tattoo Cup Diameter: 11/16" & 9/16" & 3/8" (17 mm & 14.5 mm & 10 mm)
Material: ABS
Net Weight: 0.11 Lb (0.05 kg)
INCLUDED:
1x Black Cup Holder
1x Red Cup Holder