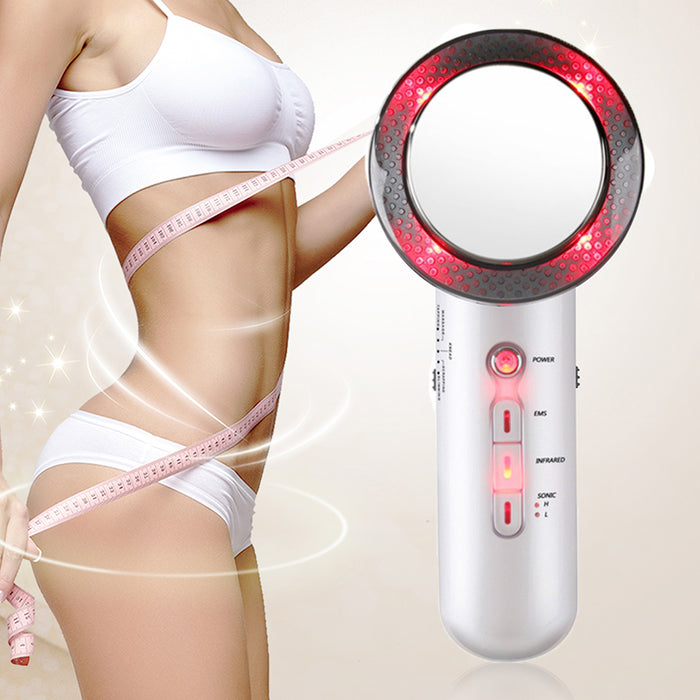 Ultralite™ - Electric Cellulite Massager
Have you been eating healthy, exercising, following body care regimen but still unable to achieve your goals? Ultralite™ - could give a boost to the entire process towards healthier skin and body.


It produces ultrasonic waves and infrared heat that promotes blood circulation and breaks down the fat deposit in the target areas, reducing overall cellulite appearance.
You no longer need to spend hundreds of dollars on cavitation treatment, just for a session! Suitable for both body and facial use, this massager provides advanced skincare therapy and also reduces muscular pains and body aches.
1 Device, 3 Functions:
Ultrasonic Cavitation is a revolutionary and non-invasive technology that uses ultrasound waves to melt fat cells.
Infrared Heat Therapy, or Red-Light therapy, tightens your skin, restores its elasticity, and helps reduce wrinkles and stretch marks by regenerating cell tissues.
EMS (Electrical Muscle Stimulation) is a low-frequency technology that relieves muscle pain, eliminates toxins, tones muscles, enhances your metabolism, and improves blood circulation.
FEATURES
Safe: Ultrasonic Cavitation is used daily for therapeutic medical procedures and is clinically proven to help fat reduction. Unlike other cellulite therapies that require invasive surgical procedures, there is no risk involved in using ultrasound cavitation.
Non-invasive: Unlike liposuction, ultrasonic cavitation doesn't require any surgical procedure. That means no anesthesia, no needles, no blood, and no bandage! Indeed, ultrasound fat cavitation only relies on low-frequency sound waves to help you lose fat, without causing any trauma to your body.
Quick Results: It will only take you 20 minutes every 2 or 3 days and results appear within the first few weeks.
Natural: Ultrasonic cavitation therapy uses low-intensity ultrasound waves to break down your fat cells into a liquid while leaving the surrounding tissues intact. Once the fat cells have liquefied, they are eliminated from your body by its natural elimination processes.
Multi-function: This anti-cellulite body massager can be used on almost any part of your body. Common treatment areas include the stomach, thighs, buttocks, neck, arms, and back.
Painless: Except for a gentle warming sensation during the procedure, you shouldn't experience any discomfort using the Ultralite - machine.
Effective: It is clinically proven that ultrasound cavitation is a revolutionary technology to reduce local fat. When nutrition and exercise alone fail, ultrasound cavitation therapy offers a solution that works.
INCLUDED:
1x Ultralite - Electric Cellulite Massager
1x Power adapter
4x EMS pads
1x User manual