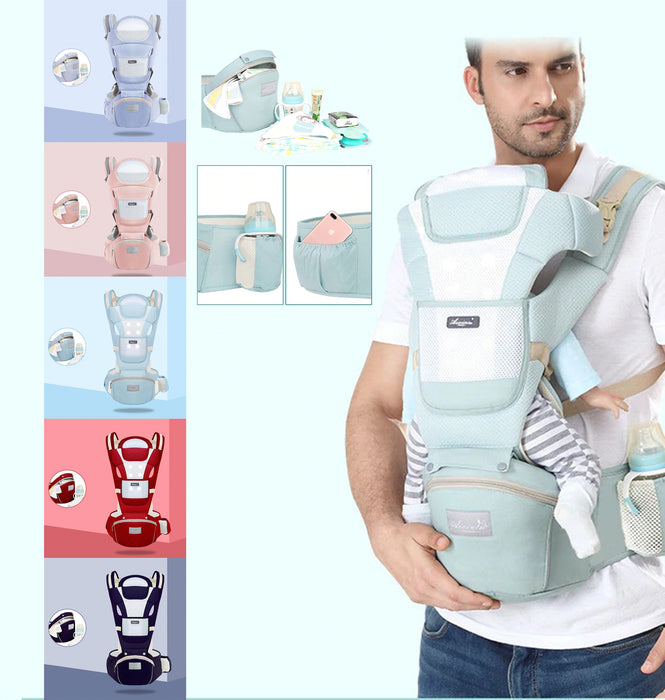 Babic - The #1 Ergonomic Baby Hipseat Carrier
THE #1
ERGONOMIC BABY CARRIER
It does not matter how cozy a swing or bouncy seat is, babies like being cradled in your arms more. But carrying your babies around all day is not really possible unless you have arms of steel and a bunch of assistants to do your daily tasks. That is where our Ergonomic Baby Carrier comes in handy.
Our Ergonomic Baby Carrier gives the comfort needed for your baby as they rest in it. It has interior padding for your baby's lumbar support. It is crucial to carry a newborn baby. That is why our Baby Carrier is designed with a padded headrest to have sufficient head support for your baby and it will also provide ample support so you can easily monitor the baby's breathing against your chest. This is truly excellent for mothers who need a little help carrying their baby in their early months.
FEATURES:
It adapts to your growing baby from newborn to toddler (~0-48 months/7-45lbs). All carry positions included, face baby in or out, wear on the hip. It also includes a large storage pouch.
It is designed with exceptional lower back comfort with a padded lumbar support waistbelt & extra padded shoulder straps.
It comes with an adjustable bucket seat that supports the baby in an ergonomic natural position in all 15 carry positions.
Ergonomic Baby Carrier fits multiple wearers from petite to larger body types & it has easy to reach buckles to make adjustments for everyone.
It is made with large capacity storage so you can keep some of your baby's stuff inside your carrier.
INCLUDED:
1x Baby Carrier
1x Instructional Manual