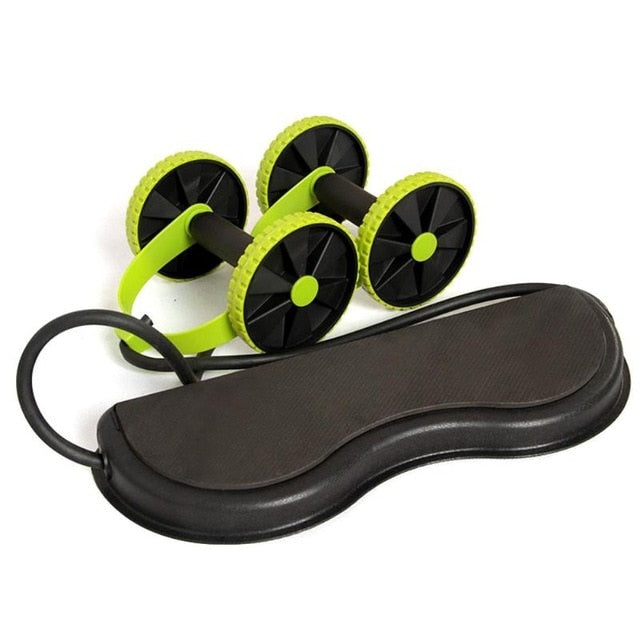 FitBliss™ - The #1 Full Body Trainer
Busy schedule not allowing you to hit the gym regularly? With FitBliss™, you can now bring your workout session to your home, exercising your entire musculature from head to toe. This is a training roller that is equipped to give a full-body workout experience anywhere, anytime. 
It works as gym equipment and has two wheels with handlebars attached on each side to give you a better grip while you work out. Equipped with super-elastic and strong pull rope, this ab roller will strengthen your abs and core from different angles in no time.
FitBliss™ allows you to target different muscle groups at once and you can work out several critical exercises using just this one equipment. You can use it for your arms, shoulders, legs, glutes, chest, back, and abs and it will give you amazing results just like conventional exercises and equipment.

This powerful roller is a versatile, highly effective, and inexpensive way to get in shape as you can do over 40 different exercises with this one time purchase.
FEATURES
One-Stop Destination for your Workout Routine: The ab rollers not only exercises your abdominal muscles but also builds up endurance in many muscle groups. It proves to be effective on your arms, back, shoulders, and glute muscles, hence you no longer need to purchase expensive gym equipment.
Specially Engineered with Dual Rollers: FitBliss™ is designed with dual rollers attached to handles that ensure better control of the equipment and safer workout routine. The dual wheels provide extra stability for a convenient workout routine. They move smoothly without skidding and maintain your balance. This ergonomic design also improves core and arm engagement for optimum results. 
Adjustable Resistance: Increase your muscles' strength, tone, mass, and endurance with resistance training as FitBliss™ features adjustable resistance ropes. You can choose between five different training levels by adjusting the high elastic resistance bands that are provided at the bottom of the knee pad. The more resistance you want the shorter the cords need to be, resulting in a more intense workout.
Never Miss Out on your Exercises Again: Be it a vacation or a business trip, you no longer need to worry about skipping your workout session as FitBliss™ is compact and light, making it easier for you to carry it anywhere you want. You can easily store it in the bag provided and you will not have to compromise with your space.
Convenient and Safe: To improve workout safety and enable a wide variety of workouts in full range, the rollers are attached to an Anti-slip kneeling board that supports your knees when you exercise and helps you in maintaining your grip on the floor. Whether you are a beginner or not, you will not have to worry about accidental injuries.
Super Strong and Durable: This equipment is made up of high-quality EVA making it sturdy and effective. The strong pull ropes are created out of premium grade rubber, providing you with a flexible and heavy workout session. It will go a long way to accompany you in your fitness schedule.
SPECIFICATIONS

Colour: Green
Material: ABS+PP=EVA
Adjustable Rope Length: 35-95cm (stretchable)
Kneeboard Size: 42x14x4.5cm
INCLUDED:
1x FitBliss™ Full Body Trainer
1x Carrying bag