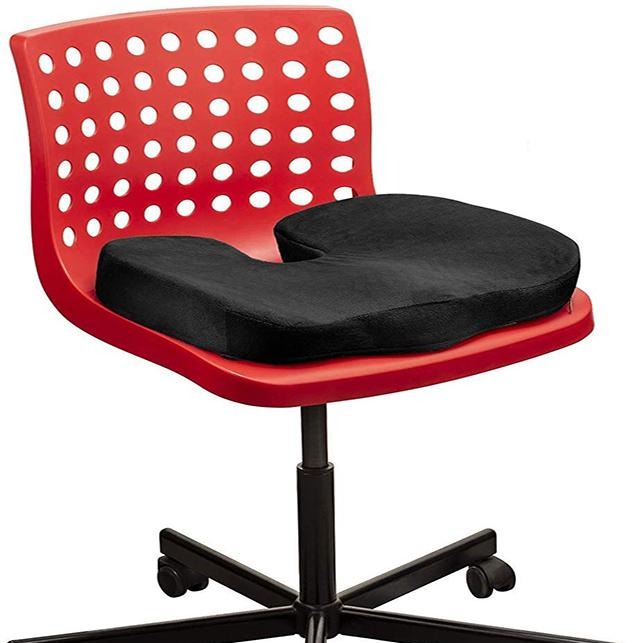 CloudSit™ - Gel Memory Foam Seat Cushion for Sciatica Tailbone Pain Relief
ALIGN YOUR SPINE & RELIEVE COCCYX AND SCIATICA NERVE PAIN USING THIS SIMPLE TOOL!

Coccyx and Sciatica never pain commonly affects people who sit for long periods of time or live a sedentary lifestyle. So, if you're someone who works in front of the computer or really needs to sit for a long time, it is time to turn your regular chair into a soft and comfortable one using this CloudSit™ Gel Seat Cushion.
Most chairs do a mediocre job at supporting your hips. Most of them are bulky, make you feel hot and uncomfortable after a long day. But CloudSit™ Gel Seat Cushion makes any chair feel like those expensive chairs in the market and provides relief from nerve pain caused by sciatica.

It is easy to use too! No installation needed at all. Just lay it down on any chair you would like to use and then you have got yourself a comfortable chair like no other. This cushion comes with a high-tech innovative gel layer with hybrid memory foam that dampens all the bumps in your chair.

It is comfortable and really convenient! This also fits most chairs for deep-seated pressure relief. Using this promotes healthy posture, blood circulation and aligns the spine so you can have a better time concentrating on your task.
BENEFITS & FEATURES:

Multifunctional:

This

seat cushion makes any hard chairs and surfaces comfortable.

It can also be used while driving for long hours in your vehicle to prevent back pain.
Gives Great Support: This can take all the pressure off your tailbone, sciatica nerve, lumbar, and lower back while sitting down.


Cooling Effect:

The gel layer on top of the foam has some cooling effects which are great when the weather is hot.
Firm Enough:

Unlike other cushions that are too soft or too dense, this gel seat cushion has just the right amount of firmness which gives the right amount of support. It also retains its shape no matter how long you use it.
SPECIFICATIONS:

Density: 50D

Shape: U type

Material:

Polyurethane

Use scenario: office/car/family/stadium, etc.

Size:

45 * 35 * 7.5cm
INCLUDED:
1x Gel Memory Foam Seat Cushion