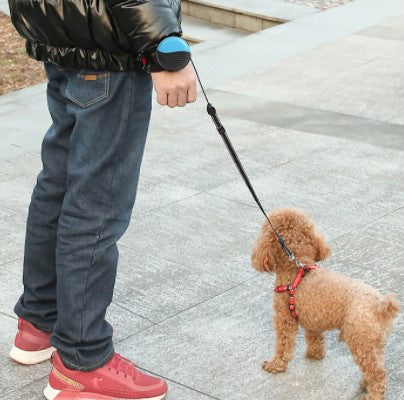 GoldenLeash™ - Retractable Hands-Free Dog Leash
Enjoy The Freedom With Your Furry Friend

The GoldenLeash™ Retractable Hands-Free is the Perfect Tool for training your dog while walking, jogging, or even running without any hassles! It allows you to maintain a comfortable distance no matter if you're walking, jogging, running, or just playing outdoors. Tangle-free and consistent retraction dog leash extender. Easy to use the lock and stay button. Ideal for any situation. 
  Keep Your Hands Free & Your Dog Happy 
Easy to carry around, suitable for any occasion, such as walking, cycling, running, and hiking. Unlike other retractable dog leashes which must hold the handle by hand, our retractable flexible leash can be worn on the wrist; keep your hands free for using your phone or reading a newspaper
  Improve Your Health With Your Best Friend!
A leash long enough to keep your pet at an appropriate distance and easily control your pet under any circumstances. The heavy-duty dog leash is made of high-density climbing nylon ropes, the strength is nearly 2x that of the same type of rope! Light and sturdy enough for small, medium, and large dogs pulling.
SPECIFICATIONS:
Material: Nylon + Polyester
Shell Diameter: 8cm
Rope length: 3m (9.84 ft)
INCLUDED:
1x GoldenLeash™ Retractable Hands-Free Dog Leash