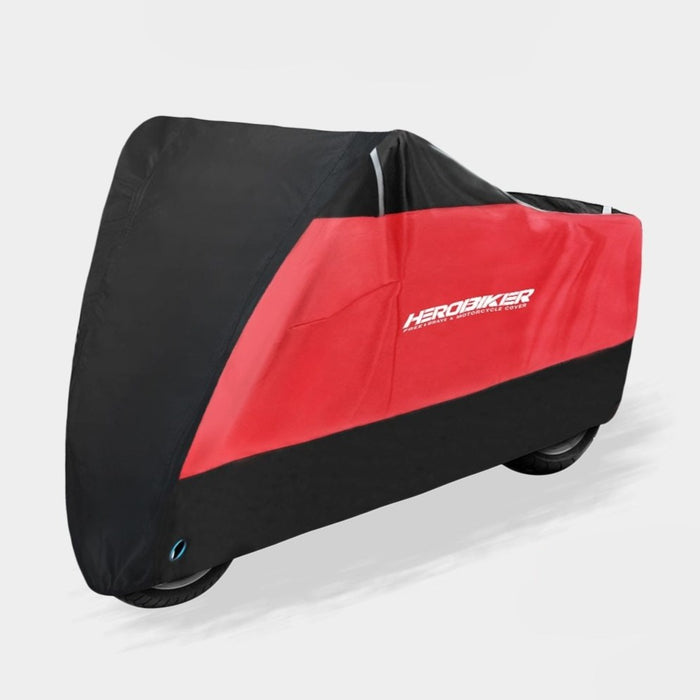 Heavy Duty Waterproof Motorcycle Cover
Looking for the perfect motorcycle cover that'll let you fully protect your motorcycle from excessive heat or rain? Our premium bike cover was designed to give your motorbike full coverage no matter where you park it.
Made with high-quality polyester taffeta material, the motorcycle shelter can keep your motorcycle safe no matter how harsh the weather is outdoors. Not only can it protect your motorcycle from sunshine and rain, but it can also ward off dust, bird poop, and more!

Fitted with a gartered bottom, the bike rain cover firmly hugs your motorbike for ultimate security and coverage. It will ensure that the waterproof motorcycle cover won't come off when unattended, preventing it from being exposed to dust or other damaging substances.
Easily set up the motorcycle cover by unfolding it and placing it over your motorcycle. Keep your motorcycle safe from any possible damage by covering it with the bike cover.
FEATURES
EASY STORAGE: Due to the foldable design, the motorcycle shelter can be stored in just about any small storage space with ease. You can also place it inside the motorcycle compartment to be able to use it when you travel.
WATER-PROOF: Water can damage the seats on your motorbike, making it crack and deforming it when the seat dries up. Our bike rain cover covers the motorcycle seat and more, ensuring comfy dryness when you take the road again.
MULTIPLE SIZES: Motorcycles come in different sizes which is why our waterproof motorcycle cover is available in multiple sizes. Find the perfect motorcycle cover for your ride and always be able to keep it safe.
SPECIFICATIONS

Color: Black, silver, and red

Material: 180T Polyester Taffeta With PU Coating

Cover Size:

Medium: 5.2-5.9 ft

Large: 5.9-6.5 ft

Extra-large: 6.5-6.8 ft

XXL: 6.8-7.2 ft

3XL: 7.2-7.5 ft

4XL: 7.5-8.5 ft
INCLUDED:
1x Heavy Duty Waterproof Motorcycle Cover