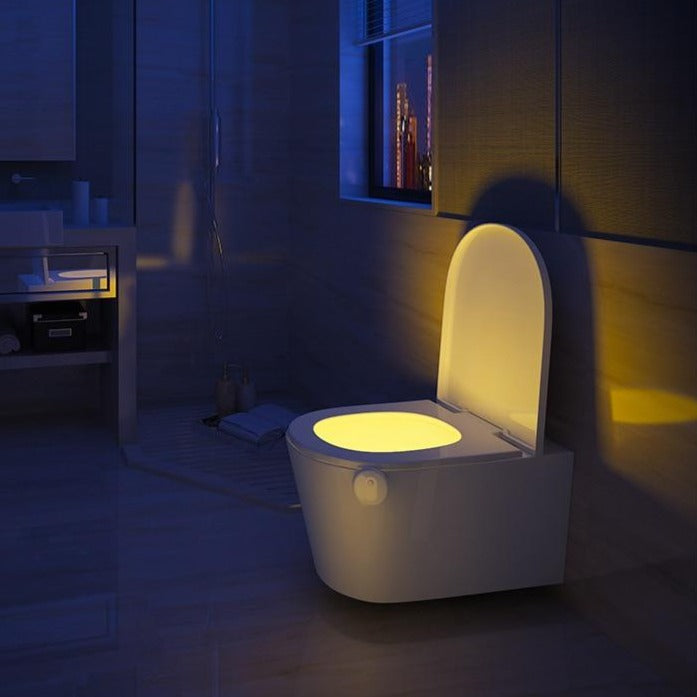 Glowlet™ - Motion Sensor Toilet Bowl Lights
Glowlet - Smart Motion Sensor Toilet Bowl Night Light a toilet seat night lamp with a motion sensor that gently illuminates the designated area with color while it's dark.
Don't turn on the blinding bathroom light while you're half asleep. This handy gadget solves all your night time bathroom mishaps.
FEATURES:
Auto-Sensing System: It turns on automatically when you approach the toilet in the dark and turns off after you leave
8-Color Light Emission:

You can choose a fixed color to fit your mood or choose carousel mode which will cycle seamlessly through every shade of color inside your toilet bowl when activated. Kids will love this!

Energy-Saving and Useful: It makes your bathroom easy to access via the auto-sensing device. No more looking for your light switch in the dark!
Easy to Install: Just hang the light on the side of your toilet with a flexible arm, no need to use a sticker. Convenient to remove and keep your toilet clean.
Fits on Any Toilet:

Fits easily on almost every toilet on the market.
HOW TO INSTALL:
SPECIFICATIONS:

Light source: LED

LED lifetime: over 10000 hours

Material: ABS plastic

Voltage: 4.5V

Power: 0.1W

Size: 6.8*6.7*1.7CM

Net weight: 43g

Battery: 3 x AAA batteries (Not Included)

Sensing distance: 2 meters
INCLUDED:
1x Glowlet - Motion Sensor Toilet Bowl Lights