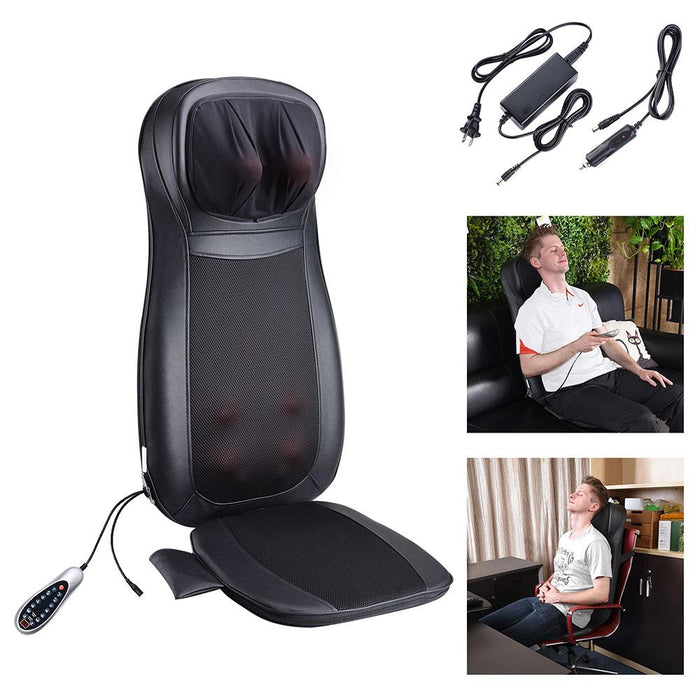 Throne™ - Heated Shiatsu Massage Cushion for Neck Back Hip
Massage cushions and chair covers are a great way to relax after long days. Such devices not only relieve muscle tension but also promote healthy blood circulation. Throne™ is a seat cushion that provides neck, back, and hip massage and vibration. With key features, this 3-in-1 seat cushion is a great way to relax tense muscles and relax at home, your office, or even in your car!
The posterior node in this massager can provide rolling spinal massage as well as full, lower, or upper back acupressure. The width and direction between the nodes can be adjusted, and there is also an additional soothing heating function.
FEATURES:
Easy to use as a remote control

15 minutes of automatic shutdown-avoid excessive use

Comes with a car power adapter and a cigar lighter adapter.

Great for improving blood circulation and metabolism.

Vibrating Motor-Provides a relaxing massage for the neck, back, and hips.

3 in 1-Neck, Back & Hip Massage

4 neck massage heads adjustable up and down - suitable for people of various heights

Eight back massage heads can be moved all over the back and can be positioned to your liking.

3-step vibration massage on the seat cushion

Heating function to relax tense muscles

Elastic lock for easy attachment to car seat or seat
BENEFITS:
This Massage cushion isn't the only device available for massage, but they are definitely one of the best options. Here is a comparison with other massage equipment.
Vibrating massage stimulates the release of endorphins and other pain relievers in the body. Experts recommend this massage over medication because it provides more pain relief than chiropractic and acupuncture.
Throne™ Massage cushions are available at an affordable price. You don't have to spend thousands of dollars on one device like a massage chair.
Throne™ Massage cushions and chair covers don't take up too much space like those bulky massage chairs. This makes it easy for Throne™ to save a lot of space.
Throne™is a portable shiatsu massage chair pad. Carrying this massage cushion is quite easy due to its lightweight quality.
Massage pillows are a convenient way to get a massage. It can be used in the evening or during the day, and you can get a massage in front of the TV or anywhere next to the warm, sunny pool. Because these devices are lightweight, they can be easily moved from one place to another.
SPECIFICATIONS:
Backrest Size (WxDxH): 16 1/2" x 8 5/8" x 30 3/4" (42 x 22 x 78 cm)
Seat Pad Size (LxWxH): 15" x 15 3/4" x 1 3/8" (38 x 40 x 3.5 cm)
Power Cord Length: 106 5/16" (270 cm)
Cigarette Lighter Cord Length: 57 1/8" (145 cm)
Net Weight: 13.2 lbs (6 kg)
Input: AC 100-240V, 50/60Hz, 1.5A MAX
Output: DC 12V, 4A
Power: 45W
Material: PU, ABS
Net Weight: 13.2 Lbs (6 kg)
INCLUDED:
1x Massage Seat Cushion
1x Power Adapter
1x Car Cigarette Lighter Plug Adapter
1x Manual