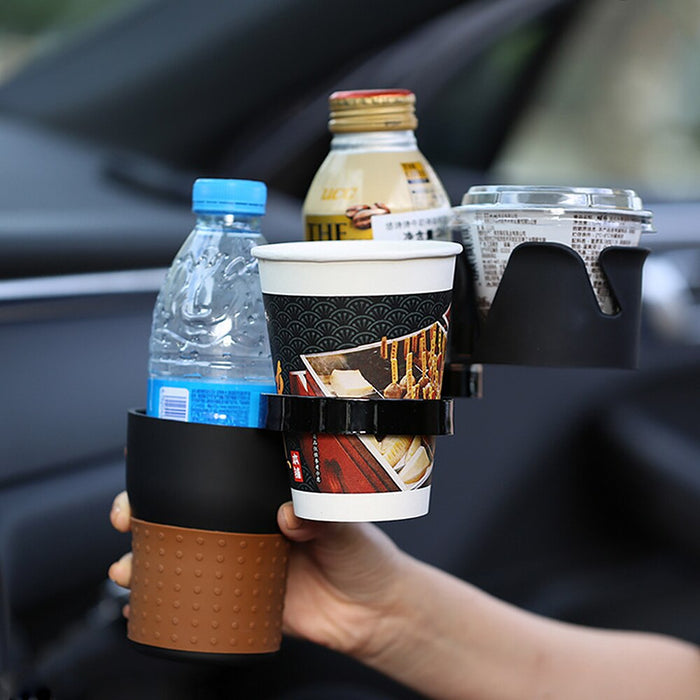 VersaCup™ - Multifunction Car Cup Holder & Organizer
Is your car a mess? Do you feel there is less space in your car to accommodate all your necessary belongings?

If that is the case this Multipurpose Cup Holder & Organizer could be perfect for you! VersaCup™ lets you store everything in one spot in an organized manner! It holds drinks, snacks, sunglasses, coins, phones, and other accessories all together. You can keep everything easily within your reach as the holder will sit perfectly between your seat and console.
VersaCup™ can be rotated to any angle for your convenience and features a silicone pad that prevents your mobile device from slipping. It can also efficiently hold multiple coffee cups and drinks, so you can easily enjoy a few sips while on the road. Additionally, it's not necessary to only use VersaCup™ for your car, its multipurpose design allows you to also use for outings, at home, or keep it on your desk to organize your belongings.
FEATURES
5 IN 1 MULTI PURPOSE: VersaCup™ features 5 parts for your convenience. 1 for your phone, parking cards, and sunglasses rack, 2 layers for beverages, a box for a small beverage and accessories, and the bottom is for coin storage, keys, and more. With this unique cup holder, you will never run out of space again!
COMPATIBLE: Are you tired of searching for the perfect holder and organizer for your car? VersaCup is compatible with almost all types of cars and keeps your car mess-free.
360 - ROTATIONAL LAYER: 360 - rotation for the top 3 layers increases space to hold drinks and snacks or other items. You will no longer have to struggle to store your belongings as everything would be within your reach.
CONVENIENT DESIGN: With VersaCup you do not have to spend hours on installation! Just place it and you are ready to go! It snugly fits into your car cup holder and features an anti-slip silicone body cover and phone holder to keep your phone and drinks stable during bumps and turns. You can also use it to easily carry multiple drinks without any hassle.
SLEEK AND PREMIUM QUALITY MATERIAL: VersaCup is made of high-grade durable materials and its unique minimalist design makes a perfect addition to your car, home, desk, and more.
Specifications:
Material: ABS + Rubber
Size: 8.9x19cm/3.5x7.5"(LxH)
Bottom diameter: 6.7cm/2.6"
INCLUDED:

1x VersaCup™ Multifunction Car Cup Holder & Organizer