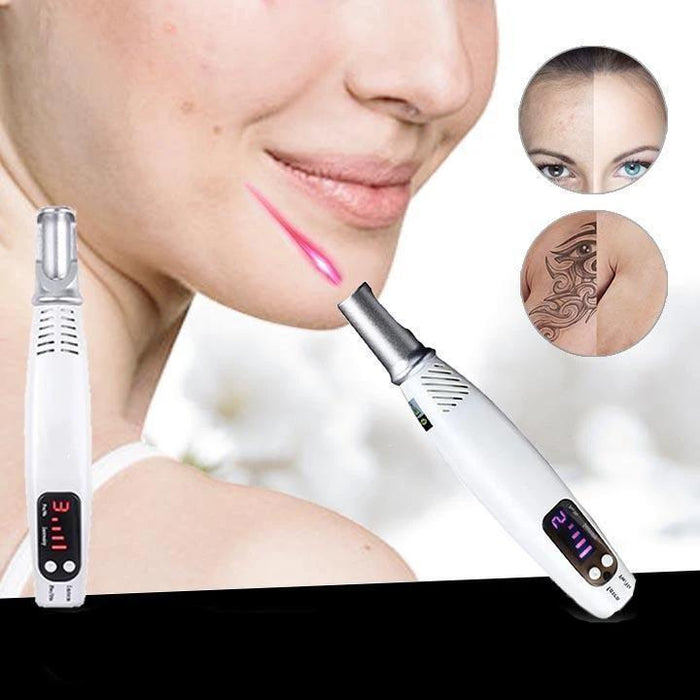 Do you have moles, tattoos, or skin blemishes that you hate? Do you ever wish there was an easy, way to get rid of them without having to pay doctors hundreds if not thousands?
Introducing the home laser removal pen for acne, tattoos, moles, & blemishes. Using the FDA approved picosecond technology, the device fires rapid and powerful laser emissions to break up dark pigments without damaging any skin tissue.
FEATURES:
Professional: Suitable for home, beauty salon, and training center use.
Efficient: The laser beam can effectively resolve melanin into fine particles, to promote skin metabolism and

reduce

melanin deposits.
Faster: Faster laser beam and more focused laser energy to clean and remove long-standing melanin problems.
Effective: More powerful laser beam. cause no damage to skin tissues and clean more comprehensively.
Comprehensive: Removes tattoos, moles, dark spots, freckles, pigments, eyebrow permanent makeup, as well as treats acne.
Safe: Painless and no damage to skin tissues, safe to use.
How Long Will It Take?
To begin to see results we recommend 1-3 exposures per week, repeated for 4 weeks. This gives all pigments adequate time to begin denaturing and cause visible fading. This process is known as Photo-ablation.
Below: A 1-month commitment to the Picosecond pen has almost completely removed Davids Neck Tattoo. With the traditional Q-Switch Technology, these results would have cost thousands, with extensive healing time and high risk of infection. This was accomplished by using the red light.
What's the difference between the blue light and red light?

The power and effect of the blue light

picosecond

pen is stronger, it requires a more professional operation. It is recommended to wear goggles (goggles

are included

). You have to press the switch button when using the blue pen, while you don't have to for the red laser pen.
The blue laser pen has 9 output modes, different output frequency and wavelength. Note: level 9 is the lowest frequency for blue laser pen
The red laser pen has 3 output modes, continuous output, Interval 1-3 seconds output, and Interval 5-7 seconds output.
If you have a black colored tattoo, its best to use the red

picosecond

laser pen. If it is a more colorful tattoo, its best to use the blue

picosecond

laser pen.
The Red light

picosecond

pen is for personal home use, you can

operate

it by yourself. Its power and effect are smaller than the blue light.
The Blue light

picosecond

pen is for beauty salon use or if someone can help you

operate

it.
Both colors can remove moles,

lentigo

, black acne scars, tattoos, eyebrow tattoos, eyebrow

microblading,

and any other melanin.
Frequently Asked Questions
Q: Will It Rebound After Picosecond Laser Pen Therapy?
A: The pico laser pen uses a picosecond laser to break down the melanin particles at the bottom of the skin into powder, which is then metabolized by your body. However, it is necessary to protect your skin in the later stage, because melanin is active, and some factors such as ultraviolet radiation, staying up late, long-term skin water shortage, endocrine disorders may stimulate the black cells to secrete a large number of melanin particles. So in the later period, you should pay attention to strengthening sunscreen, do a good job of hydrating, pay attention to rest, then it will be well controlled.
Q: What're The Picosecond Laser Pen Side Effects?
A: The treatment time is on the picosecond level, 1000 times faster than the traditional laser instrument. The treatment has finished before destroying the tissues around. The picosecond laser has a very strong blasting power for the melanin. Tiny particles can be easily metabolized and can shorten the number of treatments. Traditional laser instruments need 10 times, while the picoseconds only need 2 to 3 times, so the skin will not suffer from repeated stimulation and repair. The whole treatment process is very safe and efficient.
Q: Does Picosecond Laser Treatment Hurt?
A: There is a feeling of tingling heat during the treatment process. The more the pigment distribution is, the more obvious it is, but the speed will be very fast, it will end in 5-10 minutes, and the pain is completely acceptable.
Q: Does It Leave Scars On Your Face?
A: This is definitely not the case, because the speed is in the picosecond level, so the time is really short. Besides, the picoseconds are specific for melanin, no affects to others. The pico laser can not even break a ballon, so it will not do harm to your skin
SPECIFICATIONS:
Size: 7.48x1.38x1.38inch
Plug: US
INCLUDED:
1x Tattoo Removal Laser Pen
1x Charge Cable
1x Safety Goggles
1x Repair Sticker
1x User Manual