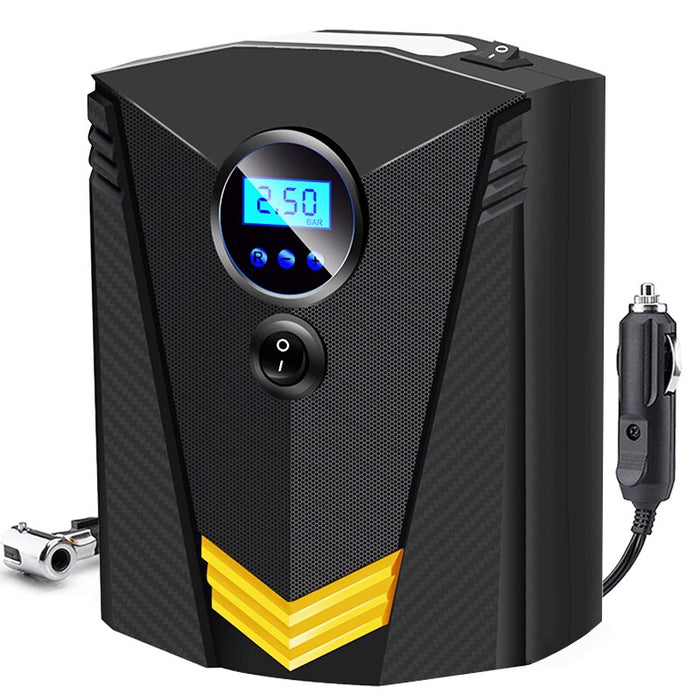 Portable Digital Tire Inflator
This Portable Digital Tire Inflator is a lifesaver for modern travelers! Its compact size and durable construction make it super easy to carry and store and it can inflate your flat tire in a few minutes.
From cars, bikes, and ATVs to mattresses, sports equipment, and toys, it can inflate almost anything!
EASY TO USE: Plug the portable car air compressor pump into the 12V power outlet and attach the hose to the tire you wish to inflate; set the default value, flip the switch and the car air compressor will do all the work for you
AUTO SHUT OFF: Before inflating, you can preset the pressure value, then the air compressor pump starts to work, when the inflating tire reaches the preset value, the car air compressor pump will automatically shut off. So, you do not have to worry about over-inflating or low tire pressure anymore, convoy your safety all the way.
DIGITAL DISPLAY & LED LIGHTING: Portable air compressor pump is equipped with a large high-precision and high-brightness display to help you check the tire pressure and preset the tire pressure values. The digital tire inflator is equipped with bright, long-lasting LED lights that can be easily used even in the dark, so you can re-inflate at night or quickly see it on dark, remote country roads.
MULTI-PURPOSE: Air compressor pump has a 10ft power cord and inflatable adaptors (3 additional nozzles) allowing to reach all tires of your car, bike, motor, ATV, compact or midsize sedan, SUV, air mattress, inflatable boats, balls, and other inflatables (but not support big Truck or Motor Lorry).
SPECIFICATIONS:
Material Type: ABS+Electronic Component
Item Height: 15.5cm
Item Diameter: 8cm
Item Width: 19.5cm
Cigarette lighter cable length: 2.8m
Power: 120W
Maximum Pressure: 150PSI
Type: Car Tire Inflator
Function: for Car Tire, Bicycle, RV, and Other Inflatables
Auto Air Compressor: Tire Inflator 12V
Special Feature: Digital Display Screen
Item Color: Black