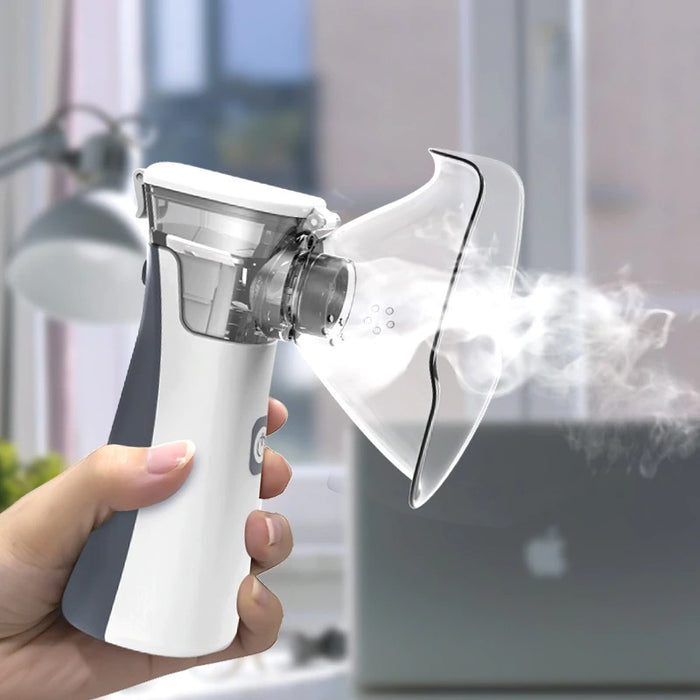 Breezy Pro - The #1 Portable Nebulizer
PROTECT YOUR LOVED ONES FROM RESPIRATORY PROBLEMS WITH THIS PORTABLE NEBULIZER!

The days of being out in the community and not having access to your nebulizer are over! Never again will you have to go on vacation, go shopping, or attend a meeting without this piece of equipment that is vital to your health and comfort.
FEATURES:
Perfect Micro-mesh Atomization: The device combines the latest micro-mesh and ultrasonic technology to create ultra-fine mist (particle size <5μm) for easier absorption, providing instant relief for you.
Pocket Size: Portable and lightweight. You can simply put it in a small room, such as your handbag, backpack, or suitcase.
Battery/USB Cable Powered: The device can be powered either by the 2 AA batteries (not included) or other exterior power sources (such as power bank, socket outlet, or power adapter) with the USB cable. (Note: Please don't use the battery and USB cable at the same time. The device is not rechargeable.)
Two Operating Modes: Power on to enter normal mode (vapor rate>0.4ml/min) for adults, and then long press for 2s to enter special mode (vapor rate>0.2ml/min) for kids.
Easy to Use:

One button operation. Detachable liquid cup design for easy cleaning. The device shuts off automatically when the liquid level or battery is low.
WHY USE A NEBULIZER?
If you have asthma, your doctor may prescribe a nebulizer as treatment or breathing therapy. The device delivers the same types of medication as metered-dose inhalers (MDIs), which are the familiar pocket-sized inhalers.

Nebulizers are easier to use than MDIs, especially for children who are not old enough to properly use inhalers or adults with severe asthma.

The pressurized air passes through the tube and turns the liquid medicine into a mist. During an asthma attack or a respiratory infection, the mist is easier to inhale than the spray from a pocket inhaler.
When your airways become narrow like during an asthma attack, you cannot take deep breaths. For this reason, a nebulizer is a more effective way to deliver the medication than an inhaler, which requires you to take a deep breath.

Designed to help administer medications and moisture into air passages, the Portable Nebulizer helps control respiratory symptoms and loosen secretions in the lungs.
Breezy Pro - Nebulizer Features/Benefits:
EASY TO INHALE

- Creates a cool, ultrasonic mist that is easily inhaled.
QUICK

- Offers quick relief for respiratory ailments.
EFFECTIVE

- Efficiently penetrates airways by providing vapor therapy.
CONVENIENT & QUIET

- Portable and very quiet!
EASY FILL-UP

- Equipped with a liquid cup that is hassle-free and very easy to fill.
SUITABLE FOR ALL AGES

- Safe for everyone from infants to elders!
INCLUDED:
1x Main unit
1x Adult mask
1x Kids mask
1x Mouthpiece
1x Storage bag
1x Lanyard
1x USB cable
1x Warranty card
1x User manual