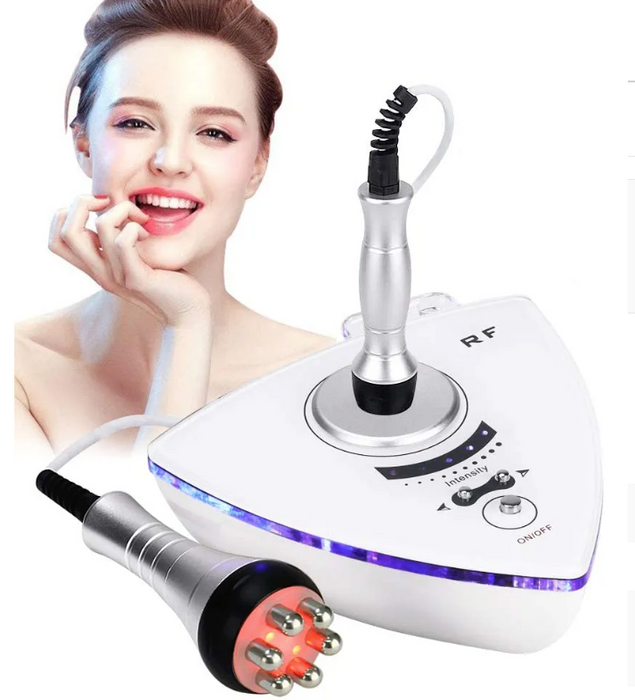 RF 3IN1 Tripolar Rejuvenation Facial PRO
Experience radiant beauty with Tripolar RF 3IN1 Facial Rejuvenation                       
Unlock the secret to timeless beauty and rejuvenation with Tripolar RF 3IN1 Facial Rejuvenation. This expertly crafted facial treatment device combines advanced technology to deliver a transformative experience, promoting youthful radiance and skin rejuvenation.
Key Features:
Triangle Wave Technology: The RF 3IN1 utilizes innovative triangle wave technology, a cutting-edge approach to facial rejuvenation. This technology stimulates collagen production, promoting firmness and elasticity for a visibly lifted, youthful appearance.
3-in-1 Multifunctionality: This device offers a versatile approach to enhancing beauty. It combines three essential functions - Radiofrequency (RF), Facial Rejuvenation and Tripolar Technology. This trifecta targets fine lines, wrinkles and sagging skin, addressing various aspects of facial and body aging.
Enhanced skin firmness and firmness: Say goodbye to sagging skin and welcome a firmer, more contoured facial and body profile. RF 3IN1 promotes collagen remodeling, improving skin firmness and rejuvenating the complexion.
Non-Invasive Rejuvenation: Say goodbye to invasive procedures and hello to non-invasive rejuvenation. The RF 3IN1 is designed to provide professional-grade results without the need for surgery or downtime, making it a convenient and effective addition to your beauty routine.
At-Home Beauty Transformation: Enjoy the luxury of professional-grade facial and body rejuvenation in the comfort of your home. The RF 3IN1 is easy to use, allowing you to enjoy a spa experience whenever it suits your schedule.
Why choose tripolar RF 3IN1 facial and body rejuvenation? Visible results: Experience visible improvements in skin texture, tone and firmness. Convenience: Get professional-level results without leaving home. Youthful Radiance: Rediscover the glow of youthful, radiant skin with regular use. Transform your skincare routine and embark on the journey to radiant, rejuvenated skin with the Tripolar RF 3IN1 Rejuvenation Facial. Elevate your beauty regime and rediscover a younger, brighter version of yourself!