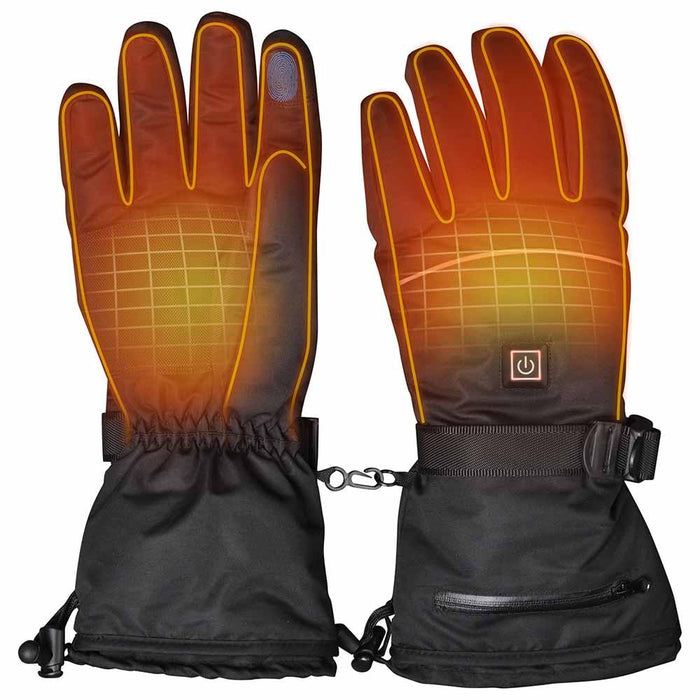 Toasty™ - Electric Heated Touchscreen Gloves

The Power of Heat Is in Your Hands!
Why suffer from freezing fingertips when you can slip on a pair of power-heated gloves? These Toasty™ touchscreen gloves keep your hands warm so you can continue to work, play, and relax. Adjust the level of heat and feel warmer in no time! The heated gloves take less than 2 minutes to reach their optimal temperature. Whether you suffer from diabetes, anemia, arthritis or you are just tired of always being cold, slip on a pair of power-heated touchscreen gloves and find relief.
Heat up the outdoors while you'Äôre riding your motorcycle, skiing, fishing, camping, snowboarding, hunting, hiking, or performing work outside. Battery-powered heated gloves keep you warm and so you can keep going. Toasty™ heated gloves are made of plush polyester and are battery powered for wireless use. 5 layers of wind-resistant polyester provide weatherproof protection. A top layer of durable, washable polyester with a matte black finish and 2 layers of composite filament trap in heat captured by the warming glove'Äôs heating element.
The black heated winter gloves come in 2 sizes and feature adjustable wristbands for a customized fit. When not in use, the touchscreen gloves clip together and to your coat. Elastic gussets with telescopic locks provide windproof coverage on the cuffs. The power-heated gloves feature 5 layers of weather-resistant protection and comfort plus 3 levels of warmth!
FEATURES:
EASY TO CLEAN: These heated gloves are easy to clean - just remove the battery packs! Wash with cold water by hand or washing machine and air dry
COMFORT YOU CAN FEEL: 5 layers of protection and comfort are designed to keep you toasty while you work or play. Windproof polyester, insulating layers made of composite filament, and a soft rayon inner liner provide heated comfort.
3 LEVELS OF WARMTH: Whether you need a little heat or you're battling the elements, slip on these heated touchscreen gloves and adjust the temperature - from 104 to 131 F degrees - for optimal comfort. These heated winter gloves reach their optimal temperature in under 2 minutes!
STAY IN TOUCH: Touchscreen-capable pads are sewn into the thumb and forefinger of each glove. You don't have to go offline when you go outside!
SPECIFICATIONS:
Sizes: Large (5 x 12 )inches and X-Large (5 x 13)inches

Voltage: 4.5 V

Batteries Needed: 6 1.5 V AA batteries (not included)

Materials: 100% polyester
INCLUDED:
1x Pair of Toasty - Gloves